Ymestyn y cyfyngiadau ond llacio rhai rheolau yng Nghymru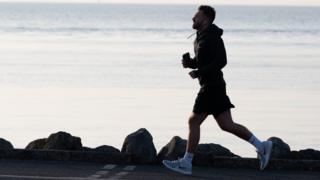 Bydd pobl yn cael ymarfer corff tu allan fwy nag unwaith y dydd, a bydd rhai llyfrgelloedd a chanolfannau ailgylchu a garddio yn ailagor, meddai Prif Weinidog Cymru.
Ond rhybuddiodd Mark Drakeford ei bod yn "rhy gynnar" i wneud unrhyw newidiadau pellach ar y cyfyngiadau, saith wythnos wedi iddyn nhw gael eu rhoi yn eu lle.
Dywedodd y byddai cynnydd bychan yng nghyfradd trosglwyddo Covid-19 yn golygu miloedd yn fwy mewn ysbytai a "nifer fawr" o farwolaethau ychwanegol.
Fe ddaeth y cyhoeddiad ddeuddydd cyn i Boris Johnson gyhoeddi newidiadau posib i'r rheolau yn Lloegr.
Galw am 'symud ar y cyd'
Er bod adroddiadau o densiynau rhwng y gwahanol lywodraethau, dywedodd Mr Drakeford ei fod eisiau "symud ar y cyd â gwledydd eraill y Deyrnas Unedig".
Bydd yr arolwg nesaf o'r cyfyngiadau yng Nghymru yn cael ei gynnal ymhen tair wythnos.
Mae llywodraethau'r Alban a Gogledd Iwerddon eisoes wedi ymestyn y cyfyngiadau yn eu gwledydd nhw.
"Rhaid i ni beidio colli'r gwaith rydyn ni wedi'i wneud," meddai Mr Drakeford yn ei gynhadledd ddyddiol.
"Mae'n rhaid i ni i gyd weithio o gartref ble fo hynny'n bosib. Rhaid i ni deithio pan fo hynny'n hollol angenrheidiol yn unig.
"Mae'n rhaid i ni barhau i gadw pellter cymdeithasol o ddau fetr a golchi ein dwylo yn gyson."
O ddydd Llun ymlaen bydd pobl yn cael caniatâd i ymarfer corff tu allan fwy nag unwaith y dydd, ond ni ddylen nhw deithio "pellter sylweddol" o'u cartrefi.
Bydd canolfannau garddio yn cael ailagor os ydyn nhw'n gallu sicrhau bod y rheolau ar ymbellhau yn cael eu dilyn.
Fe fydd cynghorau hefyd yn dechrau ar y gwaith o ailagor llyfrgelloedd a chanolfannau ailgylchu.
Ychwanegodd Mr Drakeford y dylai'r 120,000 o bobl sydd yn y categori bregus barhau i ddilyn y cyngor i aros adref.
Amazon Devices and Accessories,
Amazon Devices. Find some of the best Amazon Devices and Accessories, electrical devices and gadget available on Amazon. Great products, great prices, delivered to your door.
Amazon Auto Links: No products found.