Women's Ashes 2023: Nat Sciver-Brunt says big crowds bring no extra pressure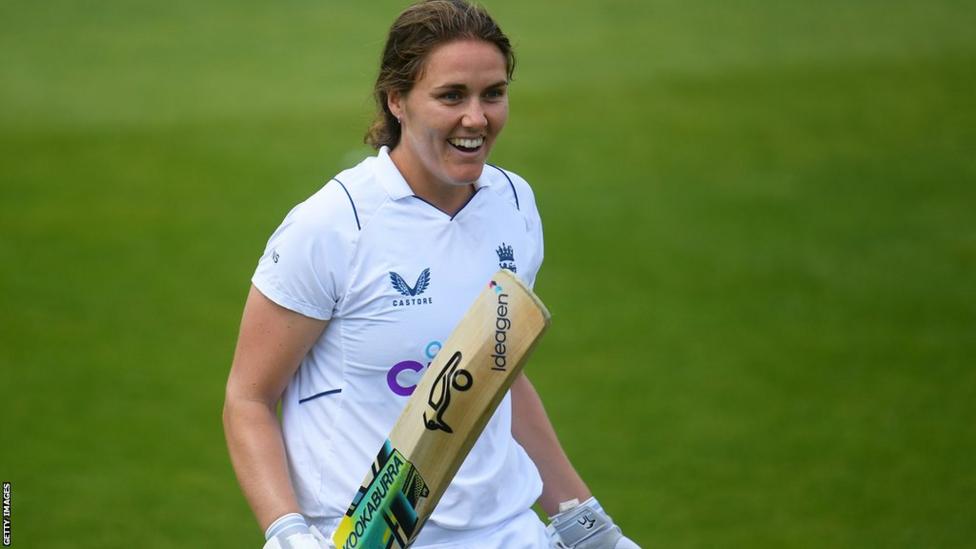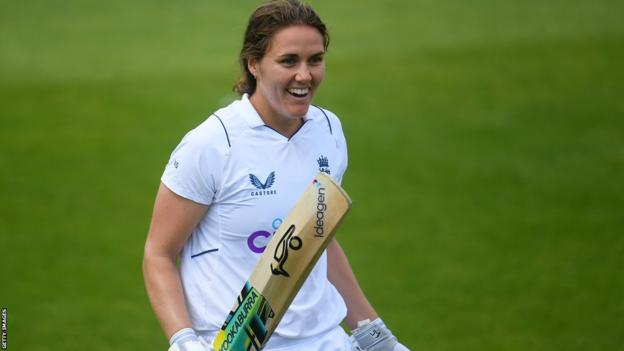 Nat Sciver-Brunt says there is no extra pressure on England despite record ticket sales for the Women's Ashes.
With just under a month to go before the multi-format series against holders Australia, more than 70,000 tickets have been sold across seven venues.
England's women's football and rugby union teams have tasted success before huge home crowds during the past year.
"We're the underdogs, so there is not more pressure on us," all-rounder Sciver-Brunt told BBC Sport.
"The ticket sales is a big number, that comes with a lot more eyes on us. That could bring pressure, but only from the outside.
"These are opportunities that have to be taken. It is the right time, right place and right moment."
Australia have held the Ashes since 2015 and are the 50-over and 20-over world champions, as well as Commonwealth champions.
The Ashes series, which contains one Test, three one-day internationals and three T20s, gets under way on 22 June.
Last year's combined record ticket sales for women's internationals of 50,000 has already been broken, with the record for an individual women's bilateral international in the UK – 15,000 – also set to go.
More than double the amount of tickets for the last Women's Ashes in the UK in 2019 have been sold.
The high interest comes after a watershed year for women's team sports in England. In July, the Lionesses won football's European Championship in front of 87,192 spectators at Wembley, while this month the same ground hosted 77,390 for the FA Cup final between Chelsea and Manchester United – a world record for a domestic women's football match.
In April, England's rugby team sealed a Six Nations Grand Slam with victory over France at Twickenham, watched by a women's record crowd of 58,498.
"Hopefully we can mimic what the Lionesses achieved," said 30-year-old Sciver-Brunt.
"It will feel different because there will be more people there, hopefully making more noise and supporting us. That will help, giving energy when we might need a little boost, or riding the wave when things are going well.
"That's where we want to be, we want to play in front of big crowds, use that noise, energy and pressure and turn it into a positive."
To house the large attendances, grounds such as Lord's, Edgbaston, The Oval and Trent Bridge – venues usually associated with major men's matches – are being used.
It is a sharp contrast from the beginning of Sciver-Brunt's international career a decade ago, when she made her England debut at Louth Cricket Club in Lincolnshire.
For the first time in England, the women's Test will be played over five days, rather than the usual four. It is an attempt to ensure a positive result, after the past six women's Test played by any team were drawn.
Despite Australia's dominance of the global game, England fast bowler Issy Wong has suggested it is a "great time" to play them, while all-rounder Emma Lamb says Meg Lanning's side are "human" and "not perfect".
Sciver-Brunt, who made her maiden Test hundred in the draw against South Africa last year, said: "Skill-wise I don't think we need to change too much.
"The way that we play is probably the biggest difference we can make. We have made significant progress in being aggressive, taking the positive option and always trying to put the pressure back on the opposition. Being able to do that in pressure moments is where we can win.
"Australia have been number one for a long time. Coming up against a team like that is difficult. We will be put under pressure and will have to be at the top of our game to beat them. It is possible. We just need to put it all together."




Amazon Devices and Accessories,
Amazon Devices. Find some of the best Amazon Devices and Accessories, electrical devices and gadget available on Amazon. Great products, great prices, delivered to your door.