Waverley paddle steamer restarts Clyde sailings after refit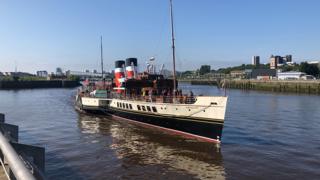 The historic Waverley paddle steamer is due to begin sailings again after being out of service for a year.
The 70-year-old ship missed the 2019 season as it waited for urgent repairs.
Last September, the operators of the steamer received a £1m grant from the Scottish government to help with the restoration.
Clyde sailings will run from 21 August until 6 September, but with "significantly limited" capacity because of Covid-19 restrictions.
Named after Sir Walter Scott's debut novel, The Waverley was built just after World War Two as a replacement for a vessel sunk during the Dunkirk evacuation.
In 1975, at the end of its working life, it was bought for £1 by the Paddle Steamer Preservation Society.
For generations of Scots it has been a familiar sight, offering "doon the watter" trips along the west coast, carrying 130,000 passengers a year.
Waverley Excursions said the funding appeal hit its target of £2.3m in December 2019.
The ship was moved under tow to Dales Marine Services in mid-January but the project was delayed because of the lockdown.
During the refit, the twin boilers were replaced, three new alternators were installed and new electrics were fitted.
The passenger toilets and the dining saloon were also refurbished.
Regular sailings are resuming after successful sea trials in the Upper Firth of Clyde last week.
Paul Semple, the general manager of Waverley Excursions, said he was hopeful there would be enough demand for the company to offer trips for the next two weeks.
"With the length of Waverley's sailing season being reduced from five months to just over two weeks due to Covid-19 this will present a funding challenge as we try to cover the costs associated with the coming winter period," he said.
"We will therefore welcome all possible support to ensure Waverley can survive beyond Covid-19."
The Waverley – facts and figures
Built by A. & J. Inglis of Glasgow and launched in October 1946.
Entered service with the London and North Eastern Railway in June 1947, working LNER's Firth of Clyde steamer route from Craigendoran Pier, near Helensburgh, to Arrochar.
Powered by a three-crank diagonal triple-expansion marine steam engine built by Rankin & Blackmore in Greenock.
Now painted in original LNER 1947 livery of red, white and black funnels, traditional brown-grained (or "scumbled") superstructure and black paddle-wheel boxes.
July 1977 – badly damaged when she struck rocks near Dunoon. The heavier than normal post-war construction which made provision for possible future military use as a minesweeper may have helped her stay together while she was refloated.
June 2009 – struck the breakwater at Dunoon with 700 passengers on board, 12 of whom suffered minor injuries.
Since being sold to the Paddle Steamer Preservation Society, the steamer has carried more than five million passengers.