Wales welcome back fly-halves Gareth Anscombe and Rhys Priestland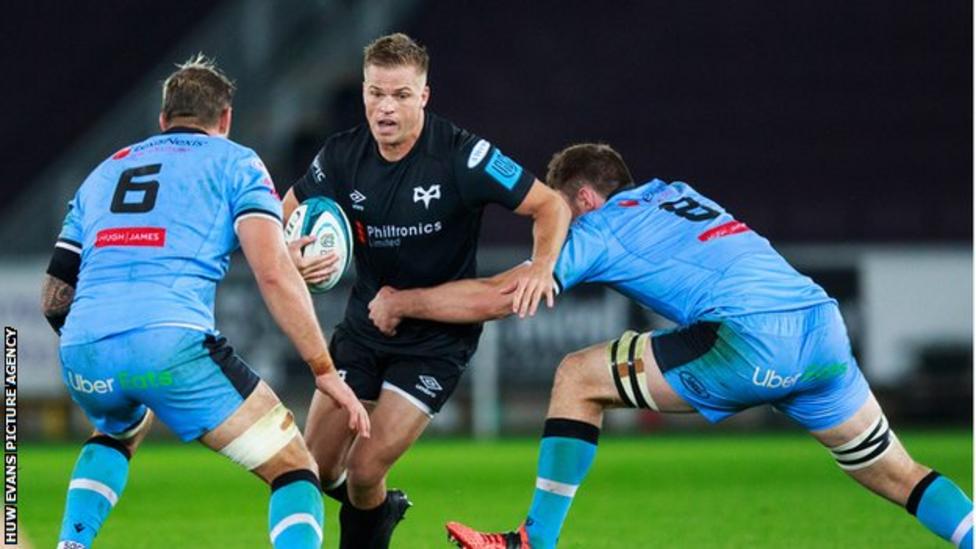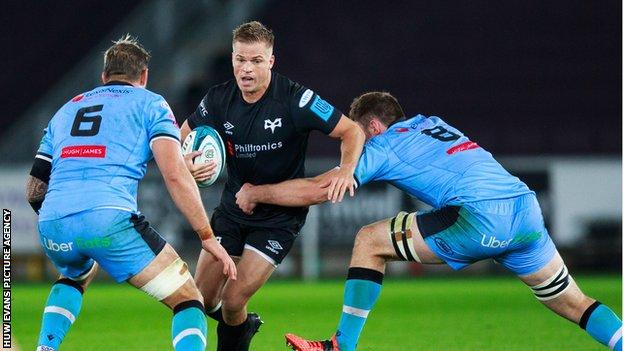 Wales coach Wayne Pivac has outlined why he has brought back fly-halves Gareth Anscombe and Rhys Priestland from the international wilderness.
The pair have been named among four Welsh fly-halves alongside Dan Biggar and Callum Sheedy who are unavailable for the New Zealand game on 30 October.
Anscombe, 30, last played for Wales in August 2019 before a serious knee injury ruled him out for two years.
Priestland, 34, has not played international rugby for four years.
The Cardiff fly-half is eligible again after returning from Bath and will be the fly-half option alongside Anscombe for the autumn opener against the All Blacks.
Northampton's Biggar and Bristol's Sheedy are unavailable because the match falls outside World Rugby's international window and English clubs will not release Welsh players for this game.
"We look at what they're doing in the here and now," said Pivac.
"Options at 10 are a bit depleted. Unfortunately Jarrod Evans has taken a knock after about 10 minutes of rugby in the season so he hasn't played.
"We've called on the experience Anscombe brings along with Rhys Priestland.
"Rhys is enjoying being back in Wales and playing for Cardiff. He brings a wealth of experience. Parts of their game, both of them, are top drawer at the moment – goal kicking being one of them."
Pivac says he had lengthy discussions over the fitness of Anscombe and Cardiff flanker Ellis Jenkins before recalling the pair.
Anscombe has only just returned after two years on the sidelines and has only started four games for Ospreys since September.
Cardiff have also been careful over Jenkins' return after the Wales flanker suffered a serious knee injury against South Africa in November 2018 and spent two years rehabilitating.
Wales have flanker injury worries with Justin Tipuric, James Botham, Josh Macleod, Josh Navidi and Dan Lydiate ruled out.
"If you look at the experience they have, ability to play at this level and the job they've previously done, that's counting for a lot in discussions," said Pivac.
"We've had lengthy discussions on both those players. We have spoken to both before naming them but also their club coaches.
"If you look at the standoff position and the seven position, both players are probably not back to 100 per cent where they'd like to be, probably more around the 80 per cent mark.
"There's been a bit of input from outside people just to make sure we're not putting them out there when they're at risk.
"They'll be monitored accordingly. It's not our intention to play those players throughout the whole campaign."
Priestland and Anscombe will not be considered at full-back for the New Zealand game despite Liam Williams struggling to be fit after having his appendix removed and Leigh Halfpenny a long-term casualty.
"That was not the best timing for anybody – least of all Liam who is very disappointed," added Pivac.
"He is back and is being monitored. We won't rush him back until he's fully fit."
Scarlets full-back Johnny McNicholl and Cardiff wing Owen Lane have been selected ahead of Hallam Amos and Jonah Holmes in the back three positions.
Pivac revealed Amos' ongoing medical career had also contributed to his omission.
"We think Johnny McNicholl is probably the form player out of those guys," said Pivac.
"Hallam is a separate issue. We spoke earlier this week about his medical studies and what he's doing outside of rugby.
"At the moment, he's a busy young man. He's got some decisions to make going forward. For now, the decision is to leave him out. So it came down to a shoot-out with Owen Lane.
"We just felt, looking at the summer and the opening games, we felt Owen was doing a little bit more around the park. That's not to say Jonah isn't playing well, just that Owen has got the nod on this occasion."
When asked whether Amos was deciding whether to do medicine full-time Pivac replied: "That's for him to sort out. He's actually called me. He's just finished his studies.
"He knows what is around the corner in terms of decisions to be made. He's got to focus on club rugby at the moment and the decisions to be made."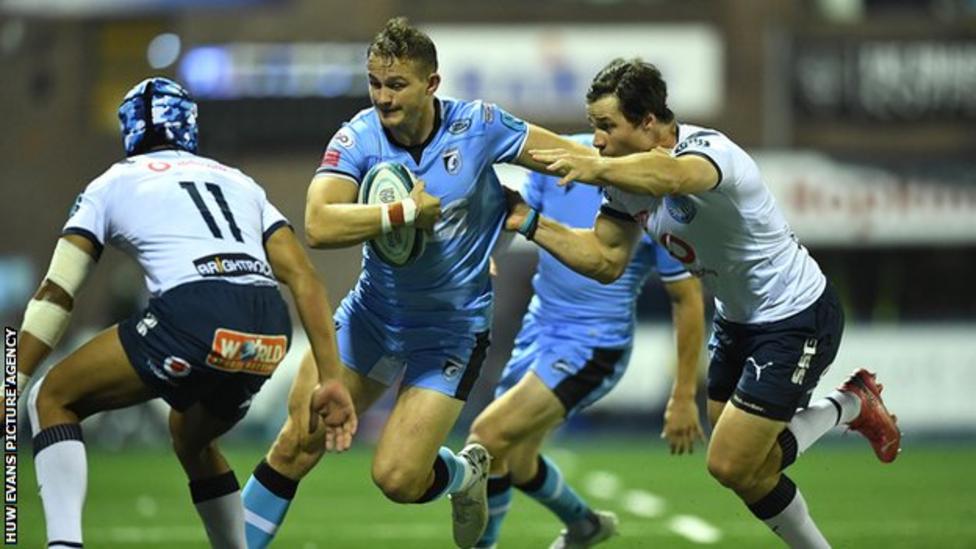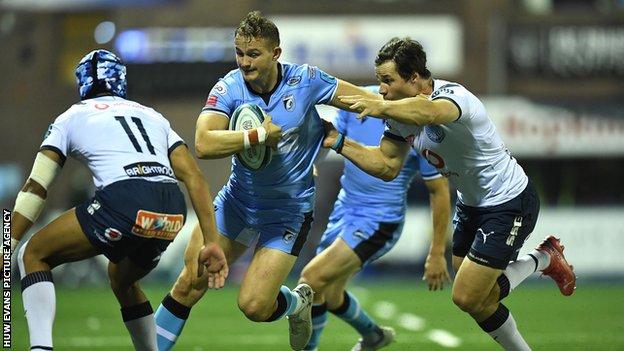 Pivac's squad will start training on 18 October with the coach insisting the camp will still be strict with their Covid-19 bubble.
England coach Eddie Jones has been told he can pick players that are not double jabbed but Pivac insisted those players were in the minority in the Welsh camp.
"There are only two or three players who haven't been double jabbed and only one management person left to go so we're in a pretty good space," added Pivac.
"Our testing regime doesn't change, we have been squeaky clean for the last couple of campaigns.
"It looks from the outside Covid-19 rules have been relaxed but in terms of our rugby environment once the players come into camp next Sunday, we're in a bubble like the last two campaigns.
"The players won't be going home, they're in for the full week, then they get to go home for 24 hours after a Test match and then they're back for a week again.
"This virus is as strong as it ever was in terms of its numbers in the community.
"There is so much at risk in these games in terms of what is at stake in terms of the revenues.
"We don't have the luxury of a club team where we can put it off for a weekend a month or two later.
"We'll be in a strict bubble even if the public can do what they do."