Waiting lists: Legal action over lengthy NI lists clears first hurdle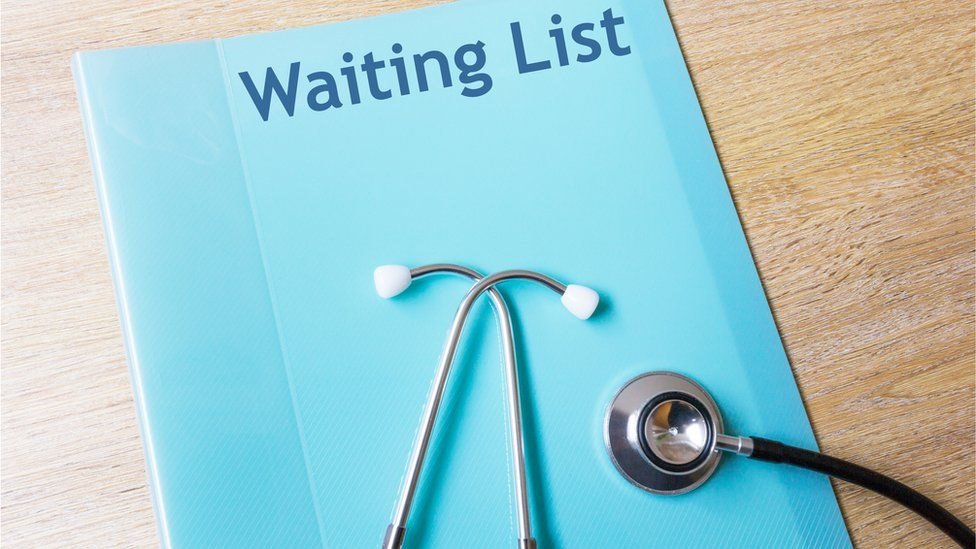 Two women taking legal action to highlight Northern Ireland's lengthy hospital waiting lists have been granted leave for a judicial review.
The case is the first of its kind in the UK.
It was brought by Eileen Wilson, a 47-year-old mother of six, waiting almost four years for a neurology appointment.
Along with 75-year-old retired nurse May Kitchen who paid privately for cataract surgery after waiting almost three years.
Addressing a hearing, held remotely at Belfast High Court, Judge Adrian Colton said: "Having considered the application it does pass that test.
"Leave should be granted."
The case centres on claims that the Department of Health and health trusts have a statutory obligation to provide effective healthcare within a reasonable timeframe.
Barrister Ronan Lavery QC, representing both women, said the case was being taken on behalf of the "160,000 people in Northern Ireland currently waiting more than a year".
Current waiting lists were a "glaring breach of duty to the public to provide basic healthcare," the barrister told the court.
"These are basic healthcare requirements," Mr Lavery said.
"Although they are described as elective – there is nothing elective about them.
"This is not having your teeth straightened or tummy tucked. These are necessary and basic requirements."
'Staggering statistics'
Details from a 2019 Nuffield Trust review of Northern Ireland's healthcare system were read out in court.
Referencing the report, Mr Lavery added: "These are staggering statistics. A person in Northern Ireland is 48 times more likely as a person in Wales to wait more than a year for care."
Judge Adrian Colton said "as a citizen" he did not have to be persuaded about difficulties of waiting lists.
"It's clear there is an issue," the judge said.
But, he questioned whether there was justification for legal intervention.
"Is the legal system the forum to resolve these matters?
"These require structural changes and political decisions," the judge said.
In response Mr Lavery said that while there was an acknowledgement that waiting lists were lengthy there has been "no acknowledgement where the fault lies and what needs to be fixed".
"This is not a question of funding, this is a question of management and competence," he said.
Meanwhile, legal representatives for the Department of Health, Health and Social Care Board and the South Eastern and Belfast health trusts opposed the granting of leave.
Ian Skelt QC told the court: "The respondent is in no way blasé about waiting lists.
"The department wants everybody to have the best healthcare as quickly as possible.
"But they have to grapple with extremely difficult ongoing demands and funding that's available."
'I would beg for a hospital appointment'

'Living with the pain' on a hospital waiting list
Tony McGleenan QC argued that the issues were "not straightforward" and were "quintessentially political questions".
"These are not classically matters for the court," the barrister added.
In summary, Judge Colton said he was aware of the pressures placed on the health and social care system as a result of the Covid-19 crisis but said the issue raised in the case "pre-date" the pandemic.
"The court is sensitive to the stresses and pressures on the health service," he said.
"I can well understand that the current pandemic will affect the difficulties of waiting lists."
'Amongst the worst in Europe'
Speaking after the hearing solicitor Ciaran O'Hare, who represents both Mrs Kitchen and Ms Wilson, welcomed the decision.
He said: "My clients are very pleased with getting over this first but important legal hurdle.
"These are extremely important proceedings because hundreds of thousands of patients in Northern Ireland are suffering and languishing on waiting lists that are amongst the worst in Europe.
"The simple fact is that the extreme length of our waiting lists would never be accepted in England.
"We do not have the NHS like in England, we have Health and Social Care and our hospital waiting lists are completely out of kilter with those in England and have been some years."
The case will be reviewed again on January 27.