UK retail sales climb back to pre-pandemic levels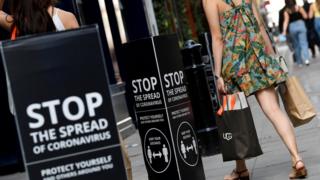 Retail sales rose above pre-pandemic levels in July as a rebound in demand continued, according to official figures.
The Office for National Statistics (ONS) said retail sales volumes rose by 3.6% between June and July.
It said sales are now 3% higher than February before the World Health Organization declared a pandemic and the UK was placed in lockdown.
Clothing sales grew last month and people spent more money on petrol.
July's rise was not as pronounced as the previous two months. In May, retail sales had increased by 12% and in June they had risen by 13.9%.
Sales in clothing shops grew by 11.9% last month. However, the ONS said this section of the retail sector had been "the worst hit during the pandemic" and the volume of sales remained 25.7% lower than in February.
While fuel sales rose by 26.2% between June and July, they remain far below pre-pandemic levels, down 11.7% compared with February.
"Recent analysis shows that in July, car road traffic was around 17 percentage points lower compared with the first week in February, according to data from the Department for Transport," the ONS said.