Two men arrested after west Belfast stabbing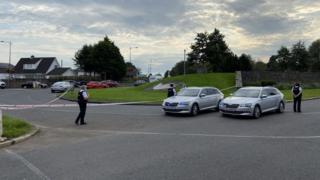 Two men have been arrested following a stabbing in Belfast on Monday afternoon, police have said.
A man sustained stab wounds during the incident in Stewartstown Road in the west of the city.
The road was closed at the Michael Ferguson roundabout for a time, but has since reopened.
West Belfast MP Alex Maskey condemned the stabbing saying it was "absolutely reprehensible", adding "these actions have no place in society".