Stephen Scullion: Belfast Olympic hopeful says retirement tweet was 'rash'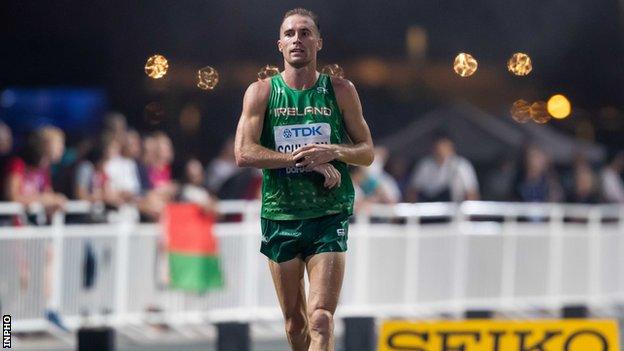 Belfast runner Stephen Scullion says an overnight tweet announcing his retirement was "rash" and appears to have reconsidered his decision.
However, the Olympic hopeful then backtracked in a later Twitter post.
"Things got a little too much for me and I made a rash decision to announce some form of retirement," he said.
"It's been an up and down experience during Covid. Last night it caught up with me that I should be in a training camp in Tokyo, preparing for the Games.
"Retirement isn't that easy and I didn't speak to anybody about it," said the Belfast man, who has qualified to represent Ireland in the marathon at next year's Tokyo Games.
'I've found solo training tough'
"I've found training solo tough and I'm used to training camps with coaches, physio and friends around me 24/7.
"The answer might be that I don't retire but try my best to relocate to somewhere I can have that company/support."
Scullion thanked people for messages that were sent to him following his late night social media post and apologised for "not clearing things up sooner".
"It's never bloody straightforward with me and having read all the tweets and messages you're all so right and I couldn't retire in peace knowing how close we got to the Olympics.
"I am OK, just a bit confused probably with life/sport right now. It's hard to accept the Olympics aren't this year and that the big marathons I love aren't either. But it's tough for us all."
Scullion's first message had stated: "Today was my last race, I've decided to retire. For reasons I'll talk about in future."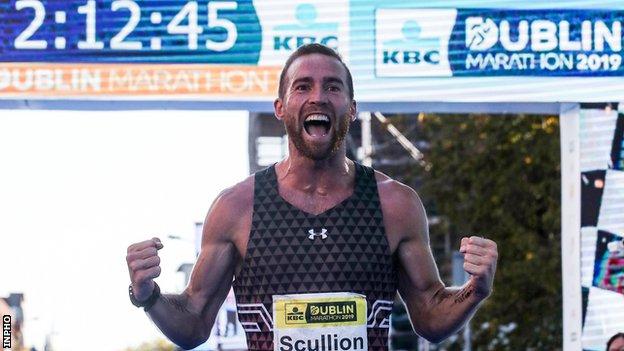 Not his first retirement
It was not the first time Scullion retired from running, having done so before playing rugby for Belfast club CIYMS in 2016.
He returned in early 2017 to begin his quest for Olympic marathon qualification, which he achieved earlier this year in Houston.
However, the coronavirus-enforced postponement of the Tokyo Games means his place in Ireland's three-strong marathon line-up is not yet confirmed.
Earlier this month, Scullion spoke openly to BBC Sport NI about his difficulty in staying motivated.
"My psychology really struggles to stay motivated and focused," he said.
"Whereas other guys love training, I've always had to battle with it.
"Could I be doing something else? I'm know how talented I am at athletics but I'm also talented at other things in life and could go on and do brilliant things in other areas."