Schoolboy set to break solo round-Britain sailing record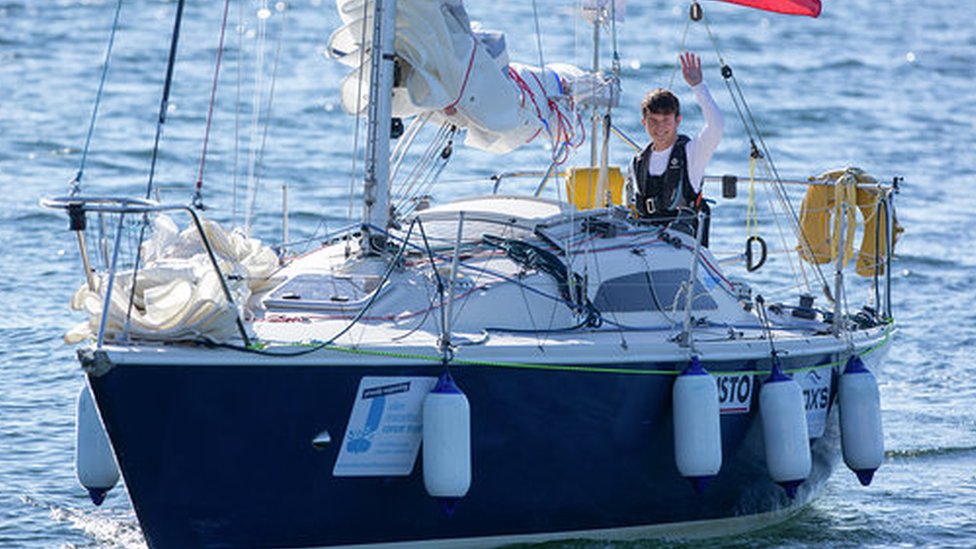 A 15-year-old schoolboy looks set to become the youngest person to sail solo around Britain.
Sailing a 28ft boat, Timothy Long from Aylesbury set off on 16 July from Hamble Marina, Hampshire, sailing anti-clockwise around the coast.
Timothy is due to sail back into the marina at about 11:00 BST having covered more than 1,600 nautical miles.
He raised money during the challenge for The Ellen MacArthur Cancer Trust and has to date reached almost £7,000.
Ahead of his return, Timothy said: "It's all quite surreal – it hasn't quite hit me yet. I just wanted to try to do something that would push me and make me a better sailor.
"I'm back at school on Monday, which will be a bit of a shock."
And despite missing the start of the new term, Timothy's mum Sue Elder said his school had been very supportive.
He decided to make the trip inspired by record-breaking yachtswoman
Dame Ellen MacArthur and largely followed a route she completed in 1995.
The 11-week voyage – divided into several legs with overnight stops in ports and marinas – saw Timothy cover an average of about 50 miles per day, with several longer passages of up to 100 miles.
Thanking Timothy for supporting the charity, Dame Ellen said: " I was only a few years older than Tim when I did the same and I was awestruck by the incredible beauty of the British Isles. There's something magical about looking back on your home country from the sea.
"The money Tim raises will make a huge difference in young people being able to rebuild their lives after cancer."
The Ellen MacArthur Cancer Trust is a national charity that supports young people aged eight to 24 to rebuild their confidence after cancer by introducing them to sailing.
The previous record was set in 2011 by 17-year-old Tom Webb, who successfully completed a similar challenge.