RNC 2020: Pence warns Americans 'won't be safe' if Biden wins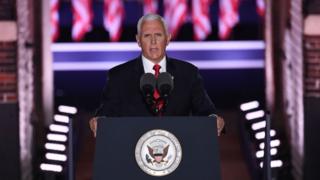 US Vice-President Mike Pence has warned that violence will spread in American cities if Joe Biden wins the White House in November.
"The hard truth is you won't be safe in Joe Biden's America," said President Donald Trump's deputy in a keynote speech to the Republican convention.
Mr Pence depicted the vote as a choice between law-and-order and lawlessness.
He spoke amid nightly protests over the police shooting of a black man, Jacob Blake, in Wisconsin on Sunday.