Pobl dal methu archebu prawf Covid-19 gyrru drwodd ar-lein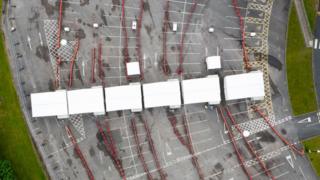 Mae pobl yng Nghymru sydd eisiau prawf coronafeirws gyrru drwodd yn dal i fethu â defnyddio system archebu ar-lein.
Cyhoeddodd Llywodraethau Cymru a'r DU yr wythnos diwethaf y byddai Cymru'n cael ei hintegreiddio i'r wefan sy'n cael ei defnyddio ar hyn o bryd gan Loegr, yr Alban a Gogledd Iwerddon.
Ond nid yw ar gael o hyd yng Nghymru sy'n golygu na all y cyhoedd yma archebu profion gyrru drwodd.
Fe all gweithwyr allweddol yng Nghymru wneud hynny, trwy gysylltu â chanolfannau prawf yn uniongyrchol.
Nid oedd Llywodraeth Cymru yn gallu dweud pryd y bydd y safle archebu ar gael ond dywedodd y byddai diweddariad yn cael ei ddarparu "cyn gynted â phosib".
Ychwanegodd llefarydd: "Mae'r gallu i archebu slot mewn canolfan gyrru drwodd gan ddefnyddio gwefan newydd y DU yn cael ei ddatblygu ar hyn o bryd.
"Cyn gynted ag y bydd y gwaith hwn wedi'i gwblhau, bydd dyraniadau slot prawf dyddiol ar gael ar gyfer gweithwyr allweddol."
Ddydd Llun diwethaf dywedodd Llywodraeth Cymru y byddai gweithwyr allweddol ac aelodau o'r cyhoedd yn gallu defnyddio safle archebu'r DU ar gyfer apwyntiadau gyrru drwodd "yn fuan".
Mae citiau prawf cartref ar gael i bawb ledled y DU, ond mae'r argaeledd yn dibynnu ar y galw.
Roedd y penderfyniad i optio i mewn i system y DU yn golygu bod gweinidogion yng Nghaerdydd wedi torri cynlluniau i ddatblygu system archebu ar-lein Cymru ei hun.
Roedd Gemma Powell, gweithiwr archfarchnad o Ben-y-bont ar Ogwr, eisiau prawf coronafeirws yr wythnos diwethaf pan ddatblygodd beswch sych.
"Doeddwn i ddim yn gallu archebu pecyn profi cartref ond llwyddais o'r diwedd i fynd drwodd i drefnu apwyntiad wrth yrru trwy sgrinio ym Mhencoed.
"Mae'r system yn ei gwneud hi'n mor anodd i gael prawf. Rwy'n teimlo dros bobl sydd methu gyrru am brawf."
Daeth y prawf yn ôl yn negyddol, gan olygu bod Gemma wedi gallu dychwelyd i'r gwaith ar ôl colli pedwar diwrnod.
'System yn drysu pobl'
Dywedodd ysgrifennydd cyffredinol Cyngres Undebau Llafur Cymru (TUC), Shav Taj, fod y system yn "dal i ddrysu pobl" ac "angen mwy o eglurder".
"Mae'n bryder," meddai. "Yn benodol ar gyfer y gweithwyr hynny nad oes ganddyn nhw hawl i gael amser i ffwrdd â thâl a thâl salwch cwmni os oes angen iddyn nhw gael eu profi a hunan-ynysu.
"Allan nhw ddim goroesi ar dâl salwch statudol yn unig."
Amazon Devices and Accessories,
Amazon Devices. Find some of the best Amazon Devices and Accessories, electrical devices and gadget available on Amazon. Great products, great prices, delivered to your door.