PC Harper murder trial: Court hears quad bike owner's 999 call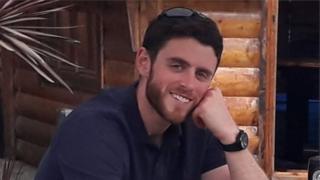 The trial of three men accused of murdering a police officer has been played a 999 call made by a man who saw them stealing his quad bike.
Peter Wallis told the call handler he could see "masked men" brandishing weapons outside his Berkshire home.
PC Andrew Harper was dragged to his death when his feet got caught in a rope used to tow the bike away.
Driver Henry Long, 19, denies murder, along with his two passengers Albert Bowers and Jessie Cole, both 18.
In the recording played in court, Mr Wallis said: "I've got four masked men outside my house and they've got weapons.
"They came round earlier and now they are at my property."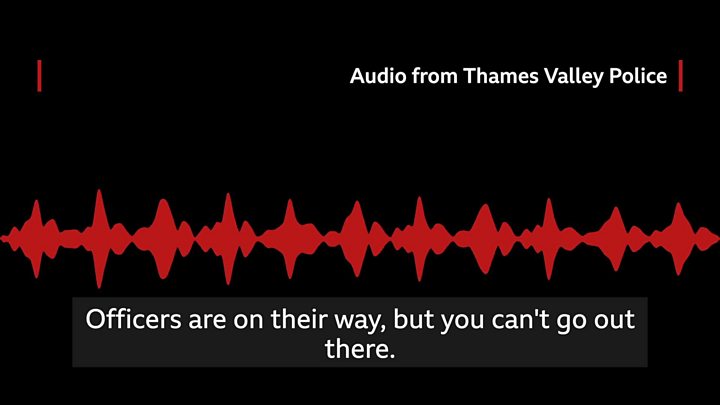 The court previously heard that, during the day of 15 August, a group of men with their faces covered had approached Mr Wallis's house near Bradfield Southend. He confronted them and they left but returned later that evening.
During the 999 call made at 23:17 BST, Mr Wallis said he thought the men were breaking into his garage, before saying they were stealing the bike parked outside.
Mr Wallis then told the call handler the men were "dragging" the £10,000 quad bike up the road.
The call handler told him the police had "lots of units on their way" and that a "silent approach" would be made to avoid alerting the thieves to the pursuit.
The court previously heard PC Harper, 28, from Wallingford, Oxfordshire, died in "truly shocking circumstances" when his ankles were "lassoed" by the rope used to tow the quad bike.
Giving evidence, PC Andrew Shaw described watching his colleague, known as Harps, falling to the ground "like a waterskier".
"Feet whipped forward and you land on your back – that's how Harps fell," he said.
"I thought maybe he slipped on something.
"I just knew he was in trouble."
'I've lost him'
PC Shaw told jurors he set off in the car after losing sight of his colleague, and found his stab vest further down the lane.
He then learned that another officer had reported a "body in the road" near the A4.
Dashcam footage played to the jury showed the moment PC Shaw radioed colleagues about PC Harper to say he had "lost him".
Prosecutor Jonathan Laidlaw QC said: "What then follows, you leave the car and had the gruesome discovery that body is your colleague.
"You obviously did your best to attend to PC Harper. It's clear he has a catastrophic series of injuries and there's nothing that can be done for him."
PC Shaw replied quietly: "No."
Mr Long, from Mortimer, Reading, has pleaded guilty to manslaughter but, along with Mr Bowers and Mr Cole, denies murder.
Mr Cole, of Paices Hill near Reading, Mr Bowers, of Moat Close, Bramley, and Mr Long have all pleaded guilty to conspiracy to steal a quad bike.
The trial continues.
Amazon Devices and Accessories,
Amazon Devices. Find some of the best Amazon Devices and Accessories, electrical devices and gadget available on Amazon. Great products, great prices, delivered to your door.
Amazon Auto Links: No products found.