Paul Davies: Angen 'newid radical' i lywodraethiant Cymru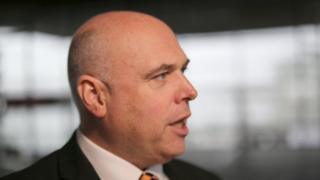 Mae angen i Gymru newid y ffordd mae'n cael ei lywodraethau a dilyn cyngor Dominic Cummings, yn ôl arweinydd y Ceidwadwyr Cymreig yn y Senedd.
Dywedodd Paul Davies mai dyhead prif ymgynghorydd Boris Johnson i drawsnewid strwythur Llywodraeth y DU yw'r "peth iawn i'w wneud".
Mewn araith ar-lein i gefnogwyr y blaid dywedodd Mr Davies bod angen i Lywodraeth Cymru gael "ei drawsffurfio gan ddos o radicaliaeth i arwain at newid o'r top i'r gwaelod".
"Methiant i gyflawni yw'r clefyd gwaethaf sy'n effeithio ar bolisi cyhoeddus yng Nghymru," meddai.
Dywedodd mai dyma o bosib yw "methiant mwyaf" Mark Drakeford, a gyda Chymru wedi'i rheoli gan Lywodraeth Lafur ers dechrau datganoli yn 1999, bod "diffyg awch am newid".
'Llywodraethu mewn ffordd radical'
"Dydyn ni ddim yn byw mewn iwtopia ond anaml iawn mae gweinidog yng Nghymru yn cyfaddef bod rhaglen neu gyllid wedi bod yn fethiant," meddai Mr Davies.
"Dydych chi ddim yn gallu trwsio problem os yw eich ymddygiad amddiffynnol chi yn rhan o'r broblem ei hun.
"Dyw hi ddim yn ddigon i gael chwyldro yn y blwch pleidleisio.
"Dydyn ni fel Ceidwadwyr ddim yn bwriadu ennill etholiad y Senedd ac wedyn parhau i lywodraethu yn yr un modd ag y mae Llafur wedi gwneud.
"Pan fydd yr etholiad wedi'i gwblhau byddwn yn llywodraethu mewn ffordd sy'n radical a heriol hefyd."
Fe wnaeth Mr Davies, yr Aelod o'r Senedd dros etholaeth Preseli Sir Benfro, gyhuddo Llywodraeth Cymru o "fod yn awyddus i ddysgu gan lywodraethau eraill, ond nid eu cymydog".
Dywedodd na fyddai Llywodraeth Geidwadol yng Nghymru yn "dilyn Lloegr yn slafaidd, ond ni fyddwn yn anwybyddu'r hyn sy'n digwydd yno chwaith".
'Llafur, nid datganoli, sydd wedi methu'
Ychwanegodd ei fod yn credu mai Llywodraeth Lafur sydd wedi methu, nid datganoli.
Yng nghynhadledd wanwyn y Ceidwadwyr Cymreig ym mis Mawrth dywedodd Mr Davies bod angen i'r blaid "wrando mwy" ar rheiny sy'n awyddus i ddiddymu'r Senedd.
Ym mis Mehefin fe wnaeth arolwg barn gan YouGov ar ran Prifysgol Caerdydd ac ITV Cymru awgrymu bod awydd ymysg cefnogwyr y Ceidwadwyr i gael gwared ar ddatganoli.
Yn ymateb i gwestiwn am ddyfodol datganoli, diddymu Senedd Cymru oedd yr opsiwn mwyaf poblogaidd ymysg pobl ddywedodd y byddan nhw'n pleidleisio am y Ceidwadwyr, gyda chadw datganoli fel ag y mae yn ail.
Amazon Devices and Accessories,
Amazon Devices. Find some of the best Amazon Devices and Accessories, electrical devices and gadget available on Amazon. Great products, great prices, delivered to your door.
Amazon Auto Links: No products found.