Newport coronavirus spike blamed on bank holiday weekend party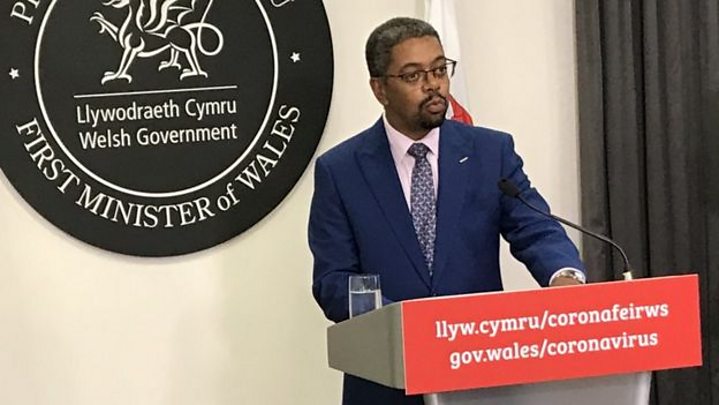 A bank holiday weekend party appears to be "at the heart" of a rapid rise in cases in Newport, ministers believe.
Wales' Health Minister Vaughan Gething said the party led to 18 new cases of coronavirus, with infected people then visiting other venues on nights out.
People in Newport have been warned to look out for symptoms if they visited seven pubs and bars in the city on specific dates in September.
Now health experts have warned people against parties during the hot weather.
A spell of sunny weather has been forecast for the next week to 10 days after highs of 31C (88F) in the UK on Monday – with Wales' hottest spot in Aberystwyth as the temperature hit 27C (80F).
Caerphilly was the first area of Wales put into local lockdown after a Covid-19 spike while two areas of the south Wales Valleys have brought in restrictions in a bid to avert a similar lockdown.
Newport now has the third highest coronavirus rate in Wales after a surge in cases as Wales recorded its highest daily Covid-19 case rate since 19 May.
The health minister warned Wales could have to go into national lockdown if people's behaviour does not change.
Mr Gething said the rise in cases in Newport had been similar to that seen in Caerphilly county, which is now in a local lockdown.
"At the heart of it appears to be a party over the bank holiday weekend, which led to 18 new cases of coronavirus, many of whom visited other venues on nights out while infectious."
The outbreak in Caerphilly had also been pinned in part on individuals socialising in people's homes.
Mr Gething said it could be two weeks before a peak is seen in Caerphilly, and more people in their 40s and 50s were testing positive there.
Now Public Health Wales (PHW) has called on people not be "tempted" into having a party in the sunshine this week.
"The warm and sunny weather forecast for this week may be a temptation to throw a party or meet up with friends and acquaintances," said Kelechi Nnoaham, chairman of PHW's incident management team.
"Please, don't be tempted and keep working with us by sticking to social distancing guidelines, so that we can protect older and vulnerable people from coronavirus."
People in Rhondda Cynon Taff and Merthyr Tydfil have been warned they face a lockdown unless the number of Covid-19 cases start to drop and PHW has revealed it is "starting to see small numbers of hospital admissions of people with coronavirus" across the Cwm Taf health board area.
The wearing of face masks has become compulsory in shops in Wales as the infection rate has surged, while no more than six people from extended households can meet indoors at any one time.
But rules to curb a rise in the number of coronavirus cases could be "shutting the door after the horse has bolted", an intensive care doctor in Newport has warned.
It comes after people who attended several bars in the city were told by PHW they should isolate and book a test immediately if they started to feel unwell.
Those bars were:
Breeze on Cambrian Rd on 4 and 5 September
The Potters on Upper Dock St on 5 September
Break 'n' Dish on Stow Hill between 1 and 8 September
Tiny Rebel Rogerstone on Wern Industrial Estate on 6, 7 and 8 September
Ye Olde Bull Inn on High St, Caerleon on 4 September
The Handpost on the junction of Risca Road/Bassaleg Road on 8 September
Three Horseshoes on Pillmawr Rd on 6 September
Mr Gething said the Welsh Government could order pubs in Newport to close or restrict opening hours to stamp out transmission of the virus.
He said the situation in Merthyr Tydfil, which has also seen a rise in cases along with Rhondda Cynon Taff, was "more complex".
"There is a cluster of cases linked to people working in a company, we are also seeing cases linked to Caerphilly borough, as well as those associated with socialising without social distance and imported cases from holiday travel," he said.
In Rhondda Cynon Taff, the cases are "largely centred on the lower Rhondda valley and are again linked to people socialising without social distancing and returning from holidays".
A small cluster of cases have also been linked to a caravan park.
Last week people in the two areas were asked to take extra precautions, including only using public transport for essential purposes.
Staying out of lockdown "depends on the choices that each one of us is prepared to make", the health minister said.
"The challenge is that we've seen some people relaxing too much perhaps and small instances where people know that they're breaking the rules and, in particular, larger social gatherings in people's homes, and a couple of businesses that have not enforced the rules in terms of where their customers behave."