New Year honours: NHS workers awarded for work during Covid pandemic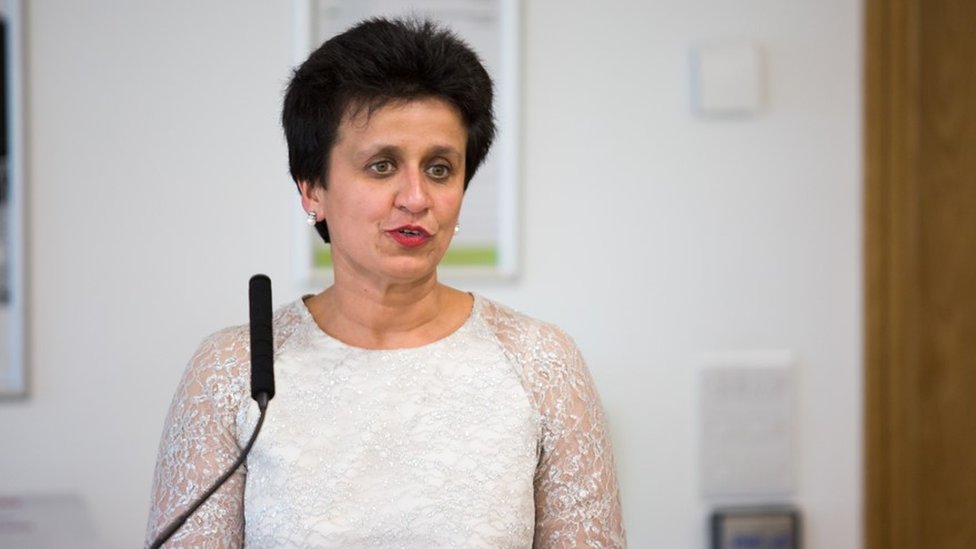 Healthcare workers in Wales are among those recognised in the New Year honours list for their work during the coronavirus pandemic.
The woman behind NHS Wales' Video Consulting Service, and a senior matron who expanded critical care capacity in Swansea, are among those honoured.
Others include a retired police officer who led a volunteer response to Covid.
Welsh Secretary Simon Hart said they were "inspiring achievements" in an "extraordinarily challenging year".
'I am humbled'
Prof Alka Surajprakash Ahuja, a consultant child and adolescent psychiatrist, from Cardiff, will be appointed MBE for services to the NHS during the pandemic.
Having helped establish the NHS Wales Video Consulting Service, she was asked in March for this service to be rapidly scaled up for people to continue to access healthcare advice and services from their homes during the pandemic – which she called a "mammoth task".
"What would usually have taken years needed to be done in a matter of weeks," she said.
She said she had "mixed feelings moving away from front line" but was proud of the work she had managed to achieve.
"It has enabled us to deliver a safe delivery of care whilst protecting the work force.
"It is obviously an honour to be recognising but is very humbling because it is a team effort."
'I am overwhelmed'
Carol Doggett, 51, head of nursing for medicine at Morriston Hospital in Swansea, will also be appointed MBE for services to leadership and nursing care for intensive care patients and staff, particularly during Covid-19.
At the onset of the pandemic, Mrs Doggett was tasked with expanding the critical care capacity for the area.
She trained a cohort of 156 redeployed staff and ensured 13 members of staff who became patients on the intensive care unit received the same high level of care and support as others.
Mrs Doggett said: "I am overwhelmed by this award and recognition.
"I accept it on behalf of all the staff from critical care and other departments who stepped up and supported the enormity of the first wave and on behalf of all the patients we nursed with Covid in ITU."
'I had to check the email twice'
Dr Tamas Szakmany, a Critical Care Consultant at Newport's Royal Gwent Hospital, is also being appointed MBE for services to the NHS during Covid-19 and said he was "very surprised".
On top of his clinical duties and research into Covid-19 he has spent twice his normal clinical time at the bedside, personally looking after more than 50 patients, participating in numerous webinars, teleconference calls and other online tutorials to help share lessons learnt from his days on the ICU.
"I had an email that I was considered and I had to check the email twice to see if it is real and not a scam," he said.
Dr Szakmany said it was a recognition for the clinical teams, research teams and critical care network, who "are making sure every patient can receive the critical care despite the pressures we face".
Retired police officer returned to work
Special chief officer Mark Owen, from Llanynys in Denbighshire, will be appointed MBE for his services to policing and to the community in north Wales, particularly during the Covid-19 response.
He returned to work and oversaw a team of volunteers to help out with tasks including delivering prescriptions and food parcels, keeping regular phone contact with the vulnerable, helping out with shopping and reassuring the community.
Under his leadership, the number of special constabulary officers doubled to almost 200.
He said: "You are asking people to volunteer their time, to put on police uniform and to go out on a Friday night and involve themselves in quite vicious and quite nasty circumstances.
"You are asking them to do it for nothing, so it's a real challenge."
In June alone, 8,000 hours were recorded by volunteers.
"It is the equivalent of having a massive amount of extra police resources on the streets of north Wales, literally engaging and encouraging our communities and supporting them directly in our hour of need which has been exposed in this last few months."
The honours system
Companion of Honour – Limited to 65 people. Recipients wear the initials CH after their name
Knight or Dame
CBE – Commander of the Order of the British Empire
OBE – Officer of the Order of the British Empire
MBE – Member of the Order of the British Empire
BEM – British Empire Medal
'Difficult to quantify the impact Sandy has had'
Prof Sandy Toogood, an honorary professor at Bangor University's School of Education, is to be awarded BEM for services to people with intellectual disabilities, having been involved in numerous developments which have aimed to improve the quality of life for children and adults with significant disabilities.
Prof Toogood, said: "Receiving an award is a humbling experience for most and very often a stimulus for reflecting on the wonderful work being done by one's friends and colleagues.
"Education has been key to unlocking the potential in people with intellectual disabilities and in society as a whole. Much remains to be done, however, and I am delighted to receive this award on the way to a better future for us all."
Prof Carl Hughes, head of the School of Education at Bangor University, said: "I could not think of a more deserving recipient of this award. Sandy has tirelessly worked for people with intellectual disabilities throughout his whole career.
"It is difficult to quantify the impact Sandy has had with his clinical and academic work and his teaching. He has been an inspiration to hundreds of students over the years."
The honours system
Companion of Honour – Limited to 65 people. Recipients wear the initials CH after their name
Knight or Dame
CBE – Commander of the Order of the British Empire
OBE – Officer of the Order of the British Empire
MBE – Member of the Order of the British Empire
BEM – British Empire Medal
'Shane's work has been instrumental'
Shane Andrews, from Cardiff, has worked over the years to increase LGBT+ awareness among his Network Rail colleagues and tried to empower them to celebrate diversity in the workplace.
His commitment has led to Network Rail being ranked fourth in the Vercida group list of LGBT+ inclusive employers and he will be appointed MBE for services to diversity and to inclusion.
Mr Andrews said: "I am pleased to have played my part in improving diversity and inclusivity in this industry.
"I'm proud we have achieved so much in the last year, despite the challenges of Covid-19 and we will continue to ensure Network Rail is a great place to work for all and a place where everyone matters."
Bill Kelly, Wales and Borders route director at Network Rail, said: "I would like to offer my warmest congratulations to Shane for being recognised with such as prestigious award.
"Shane's work has been instrumental in helping us become more reflective of the communities we serve."
'Wonderful way to start 2021'
Cathy Knapp-Evans, founder and creative director of Mid Wales Arts Centre in Caersws, Powys, will be awarded BEM for her services to the arts in Wales, having developed access to the arts in the area, and raised awareness of the importance of the arts for health and wellbeing.
"We see this as an award for the co-operative efforts of artists in mid Wales," said Ms Knapp-Evans.
"We were very fortunate in 2020 to have a space where we could offer access to the arts and art education.
"We received a sustainability grant from the Arts Council of Wales to enable us to pay for all the PPE and reduced class sizes etc and, as we watched people heal and grow, we saw just how important art can be.
"This is a wonderful way to start 2021, it will hopefully be a better year for everyone, a time to heal and meet together again."
'A huge privilege'
Craig Stephenson, former Director of Engagement at Senedd Cymru, is appointed OBE for services to the Welsh Parliament and equality.
Mr Stephenson, who was born in Barry but now lives in Penarth, said: "I'm very proud to have played a part in the development of the Senedd since 1999 and to help make it the inclusive institution is has become.
"Being right at the heart of devolution in Wales and working with a group of committed, enthusiastic staff was a huge privilege.
"We achieved great things together to help cement the Senedd's reputation as a world-class parliament with diversity, fairness and bilingualism rooted in its services and culture.
"I am absolutely delighted to receive the OBE and thank everyone at the Senedd for this honour."