New Year Honours 2021: Kingsmills survivor and NI musician on list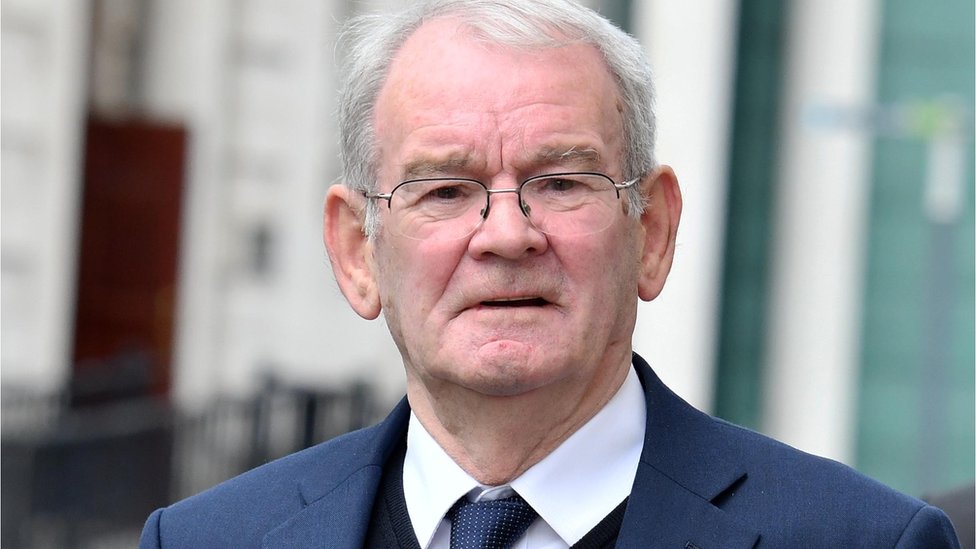 The sole survivor of the 1976
Kingsmills massacre is among almost 90 people from Northern Ireland who feature on the New Year Honours list.
Alan Black was appointed MBE for services to the community in south Armagh.
World-famous pianist and conductor Barry Douglas is also on the list with a CBE for services to music and to community relations in NI.
Born in Belfast, Douglas had already been appointed OBE in the 2002 Honours.
NI's Chief Social Work Officer Sean Holland has also been appointed CBE.
Also recognised for public service, particularly during the Covid-19 response was DUP MLA William Humphrey who has been appointed MBE.
Consultant Psychiatrist Dr Philip McGarry, who was appointed OBE, said he was "delighted" to accept the honour but that it had not been anticipated.
He said the recognition was not just for "mental health as a whole not just psychiatrists, but all those who work in the field" and for patients and families.
"Over recent years, it's become much more acceptable to talk about mental health," he said.
He added that the approach and culture was different to when he had started out in the 1980s.
"It is now very acceptable for people, including men, to talk about their emotions and mental illness when there was a terrible stigma about it at that time".
Sports stars also feature in the Honours, with Commonwealth and European pommel horse champion Rhys McClenaghan receiving a British Empire Medal (BEM).
The Newtownards native, 21, became the first Irish gymnast to win a World Championship medal last year.
Mixed Martial Arts coach Danny Corr also receives a BEM for services to his sport and to community relations in Glengormley.
Six-time North West 200 winner John McGuinness becomes an MBE.
Northern Ireland Fire and Rescue Service Station Commander Karen McDowell has been appointed MBE for her services to fire and rescue and the LGBTQ community.
With more than 27 years' service – she joined the organisation in 1993 – Ms McDowell worked in a number of posts and recently played an important part in NIFRS response to Covid-19.
Ms McDowell said she was "very surprised and deeply humbled" by the award.
"The last 10 years have been an incredible journey and if I have helped make a difference to anyone facing similar challenges it has been a privilege to have had that opportunity," she said.
Another MBE recpient was Amanda McNamee, the principal of Lagan Integrated College, for services to education.
"I get most reward from working with children from different parties of the community in integrated education," she said.
"I love to work with children of all different abilities and for them to see the potential that they have within themselves and that there is no limit to what you can do in life if you have drive and ambition."
She added that it was her parents who would "probably be most proud".
The honours system
Companion of Honour – Limited to 65 people. Recipients wear the initials CH after their name
Knight or Dame
CBE – Commander of the Order of the British Empire
OBE – Officer of the Order of the British Empire
MBE – Member of the Order of the British Empire
BEM – British Empire Medal
Order of the Bath
Derek Alexander Baker, Permanent Secretary, Department of Education, Northern Ireland Executive
Fiona Caroline Gail Chamberlain, lately Crown Solicitor for Northern Ireland
Commanders of the Royal Victorian Order
David Christopher Lindsay, Lord-Lieutenant of County Down
Commanders of the Order of the British Empire (CBE)
William Barry Douglas O.B.E., Concert Pianist
Sean William Holland, Chief Social Work Officer, Department of Health, Northern Ireland Executive
Michael Ashton Kuhn, Northern Ireland Screen
Mark Alexander Larmour, Political Director, Northern Ireland Office
Bernard Francis (Brian) McConville, Owner and Chair, MJM Group
Paul Alexander Terrington, PwC NI
Officers of the Order of the British Empire (OBE)
Geraldine Brereton, Deputy Director, Universal Credit Operations, Department for Communities, Northern Ireland Executive
John George Lillywhite, Chair, Kainos
Alan John Lindsay Kennedy Moore MBE
Jerome Patrick Mullen, Newry Chamber of Commerce and the Clamry Group
William Patrick Thomas O'Hara
Diljit Singh Rana M.B.E Chairman, Andras House Ltd
Oliver Edward Pattison Shanks
Members of the Order of the British Empire (MBE)
Michael David Briggs, East Belfast Community Development Agency
Philip Cassidy, Global Executive Vice President, Concentrix.
Florence Margaret Hand, Health and Wellbeing Manager, Northern Health and Social Care Trust
Ian Aubrey McDonald Harvey
Christine Hayes, Lately Systems, Analytics and Reward Officer, Ulster University
Claire Henderson, Head of Department, South Eastern Regional College
William Joseph Humphrey, MLA for North Belfast
Catherine Jane Irwin, Volunteer, Girl Guides
John Charles Kenneth McDowel, Director, Kilwaughter Minerals Ltd
Karen McDowell, Station Commander, Northern Ireland Fire and Rescue Service
William Thompson McElhinney Lately Principal, Ashlea Primary School, Londonderry
Amanda McNamee, Principal, Lagan College
Gordon Charles Penrose, Honorary President, Institute of Roofing
David John Marshall Robinson, Chairman of the Trustees, The Robinson Memorial Hospital
Lynn Smith, Civilian Secretary, HQ 38 (Irish) Brigade, Northern Ireland Garrison
Sarah Elizabeth Marilyn Warren, Lecturer, Southern Regional College
Medallists of the Order of the British Empire (BEM)
Hugh Kirkpatrick Paul Bell, Chairman, Board of Governors, Aughnacloy College
Donald John Blair,Volunteer, 1st Greenisland Company, The Boys' Brigade
David Terrance Butler, Access Manager, Translink
Elizabeth Doherty, Receptionist, Belfast Campus, Ulster University
Brigid Doyle, Head of Childcare, Queen's University Belfast
MartyneGirvan, Higher Officer, Fraud Investigation Service, HM Revenue and Customs
Alana Lorraine McAllister
Jonathan Peter McMillen, Executive Officer, Syrian Refugee Project, Department for Communities
Peggy Margaret Mary O'Dwyer
Arthur Wilfred David Ovens
Sheila Mary McCafferty Palmer
Christopher James Preshaw, Chief Technician, School of Biological Sciences, Queen's University Belfast
Joan Young Totten, Manager, North Belfast Alternatives
Queen's Police Medal (QPM)
Norman James Lewis, Detective Chief Inspector, Police Service of Northern Ireland
Robert McAllen, Constable, Police Service of Northern Ireland
Mark Roberts, Inspector, Police Service of Northern Ireland
Queen's Ambulance Medal (QAM)
Margaret Mary Barclay, Resource Manager, Northern Ireland Ambulance Service