Mewn Cymru Aled Davies yn symud o'r Gweilch i'r Saracens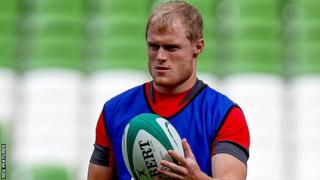 Mae mewnwr Cymru Aled Davies wedi symud o'r Gweilch i'r Saracens ar gytundeb tair blynedd o hyd.
Fydd Davies, sy'n 27 mlwydd oed, ddim yn gymwys i chwarae i'r tîm cenedlaethol bellach gan ei fod yn dewis symud o Gymru a heb ennill o leiaf 60 cap.
"Mae'n anrhydedd ymuno gyda'r Saracens a fedrai ddim aros i gychwyn," dywedodd Davies mewn datganiad ar wefan y clwb.
Chwaraeodd Davies mewn pedair o'r pum gêm wrth i Gymru ennill Pencampwriaeth y Chwe Gwlad yn 2019, gan ddechrau yn y fuddugoliaeth o 15-26 yn erbyn Yr Eidal yn Rhufain.
Ond chafodd o ddim ei ddewis yn y garfan ar gyfer y Bencampwriaeth eleni wrth i Rhys Webb ddychwelyd wrth ochr Gareth Davies a Tomos Williams.
Mi fydd Davies, sydd wedi ennill 20 cap, yn chwarae yn yr ail adran yn Lloegr y tymor nesaf ar ôl i'r Saracens gael eu diarddel o'r Uwch Gynghrair am dorri rheolau taliadau i chwaraewyr.
Dyma'r chwaraewr cyntaf iddyn nhw arwyddo ers cael eu cosbi.
Mae Hadleigh Parkes a Thomas Young hefyd wedi dod â'u gyrfaoedd rhyngwladol i ben yn ddiweddar drwy beidio arwyddo i ranbarthau Cymru.
Cychwynodd Davies ei yrfa gyda'r Scarlets yn 2009, cyn ymuno gyda'r Gweilch yn 2018.
Amazon Devices and Accessories,
Amazon Devices. Find some of the best Amazon Devices and Accessories, electrical devices and gadget available on Amazon. Great products, great prices, delivered to your door.
Amazon Auto Links: No products found.