Manchester United 4-1 Chelsea: We belong in Champions League, says Erik ten Hag
Manchester United are back where they belong, according to manager Erik ten Hag, but the Dutchman believes they need to strengthen this summer to make the progress he demands.
Ten Hag agrees with Arsene Wenger's old assessment that claiming a place in Europe's elite club competition is the equivalent of winning a trophy.
However, he is not one to rest on his laurels and is already looking to the transfer window as he tries to close the gap on FA Cup final opponents and Premier League champions Manchester City.
"This club belongs in the Champions League," Ten Hag said.
"Finishing in the top four was the main objective. The competition is tough, there are many teams with really good squads, good managers and high budgets.
"For this moment it is the maximum but we want more and I don't have a lot of patience. Standards have to go up. Manchester City are playing outstanding football but we have a way to go."
Former United defender Gary Neville says "investment is needed" for the club to progress any higher and Ten Hag has a similar opinion, adding: "In the summer we can work with the squad we have but we need to strengthen."
'You don't get higher with this group'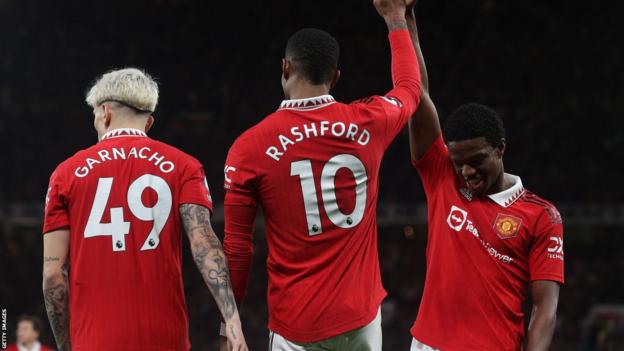 United have been heavily linked with a move for Chelsea's England midfielder Mason Mount in recent days, while Tottenham's Harry Kane would be an obvious choice to fill the number nine role the club have earmarked as a priority if Spurs chairman Daniel Levy indicated a willingness to sell.
United are known to be looking for an experienced central midfielder in what could be a summer of change at Old Trafford if the club can prove themselves better at selling players than they have been in previous summers.
Against all this is the backdrop of ownership uncertainty.
The Raine Group, who are handling the potential sale of the club, are continuing to work towards a resolution after the Glazer family in November announced they were considering selling.
There has been suggestions of some kind of clarity around the end of the season, although representatives of Qatar's Sheikh Jassim bin Hamad Al Thani and Sir Jim Ratcliffe's Ineos Group, the two main bidders, have privately said they remain unaware of when the process will reach its conclusion.
Former United captain Neville, a long standing critic of the club's current ownership, believes change has to come for his old club to challenge City.
"Erik ten Hag has achieved the maximum with this squad," Neville told Sky Sports.
"He will need an investment because I don't think you get higher with this group. This is their limit. They are certainly not challenging for the title.
"The manager has proved he can handle the magnitude of the club. Now it is about getting new owners and progressing on and off the pitch. Because they have been way off for 10 years now, nowhere near."
While former Liverpool midfielder Jamie Redknapp believes Kane is an obvious target for the Old Trafford club.
"If Man Utd want to kick on next season they need to go and get a top striker, Martial is not the answer," he said. "They need to get Victor Osimhen from Napoli or Harry Kane, if they want to seriously challenge.
"Tottenham is a shambles, it feels if you were Harry Kane, with a year left on your contract, now is the time to leave. He missed the chance with Man City [last summer] and this is the time he needs to push. Tottenham is like a social experiment about how far you can push your fans. He deserves better."
Lampard's praise for Ten Hag
As he picked through the wreckage of an eighth defeat from his 10 games in charge, Chelsea boss Frank Lampard identified the work Ten Hag did immediately after taking over at United as key, with the manager stamping his authority on a club.
That included dealing with the issues around Cristiano Ronaldo and his refusal to stay and watch his team-mates after he was substituted at half-time in his first pre-season appearance – then the refusal to come on as a substitute in a Premier League game against Tottenham in October
"There has to be basics," Lampard said. "There has to be fundamentals.
"I remember when Ten Hag first came people were talking about discipline and fines, the Ronaldo situation and setting the standard. Those things are where this club has had a positive upturn."




Amazon Devices and Accessories,
Amazon Devices. Find some of the best Amazon Devices and Accessories, electrical devices and gadget available on Amazon. Great products, great prices, delivered to your door.