Llwyddiant Eisteddfod T yn 'arloesol a hanesyddol'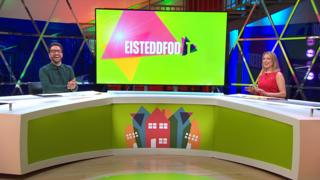 Mae trefnwyr Eisteddfod T, a ddenodd dros 6,000 o gystadleuwyr, yn dweud eu bod wedi eu "syfrdanu" gyda safon y cystadlu a fu yn ystod yr wythnos.
Yn absenoldeb Eisteddfod yr Urdd, a fyddai wedi cael ei chynnal yn Sir Ddinbych yr wythnos hon, mae cystadleuwyr a gwylwyr wedi bod yn cymryd rhan mewn gŵyl ddigidol ar y radio, teledu ac ar-lein.
Cynhaliwyd Eisteddfod T trwy gydol yr wythnos gan ddenu dros 6,000 o gystadleuwyr mewn mwy nag 80 o gystadlaethau, gyda chystadlaethau ychwanegol yn cael eu gosod yn ystod yr wythnos hefyd.
Dywedodd y trefnwyr bod yr ymateb i'r ŵyl wedi bod yn "anhygoel".
"Mae safon y cystadlu yn syfrdanol, ac rydyn ni mor falch o'r ymateb cadarnhaol a'r holl ganmol sydd," meddai Sian Eirian, Cyfarwyddwr Eisteddfod yr Urdd.
"Mae'r ochr dechnegol wedi bod yn dipyn o her – dibynnu'n llwyr ar westeion yn cael eu cyfweld o bell gan gyflwynwyr mewn stiwdio dros dro yng Ngwersyll yr Urdd Caerdydd, gan gadw at reolau pellter cymdeithasol, y beirniaid yn datgelu'r canlyniadau ar deledu byw, o'u cartrefi, ynghyd â'r holl gystadlu yn digwydd yn ddigidol.
"Mae wedi bod yn anodd, yn gymhleth, yn gofyn llawer o bawb ar a thu ôl y sgrin, ac yn ddrwg i'r nerfau!
"Ond mae wedi mynd yn rhyfeddol o dda ac rydyn ni wedi ac yn parhau i gael ymateb gwych gan y gynulleidfa."
'Arloesol a hanesyddol'
Yn ogystal â'r 25 awr o ddarlledu byw ar S4C a 18 awr ar BBC Radio Cymru roedd yna 'faes' eisteddfod ar Facebook, lle'r oedd perchnogion stondinau yn gwerthu'r cynnyrch fyddai wedi bod ar gael ar faes go iawn.
Dros yr wythnosau diwethaf, mae cystadleuwyr wedi bod yn anfon fideos o'u perfformiadau i gael eu beirniadu.
Ymhlith y cystadlaethau roedd dawnsio gwerin draddodiadol a chanu cerdd-dant ynghyd ag elfennau mwy anghonfensiynol fel deuawd gydag enwogion Cymru, cystadleuaeth lip-sync, parodi o gân gyfarwydd â sgetsau i'r teulu cyfan.
"Mae Eisteddfod T wedi llwyddo i ddod a Chymru gyfan ynghyd drwy rym technoleg ac ry'n ni'n falch iawn o fod wedi gallu darlledu holl fwrlwm a hwyl y digwyddiad heriol a hwyliog hwn," meddai Amanda Rees, Cyfarwyddwr Cynnwys S4C.
Ychwanegodd Rhuanedd Richards, Golygydd BBC Radio Cymru a BBC Cymru Fyw: "Ry'n ni'n hynod falch o fod yn rhan o ddigwyddiad arloesol a hanesyddol ac yn falch iawn o lwyddiant yr wythnos."
Bydd rhaglen uchafbwyntiau ar BBC Radio Cymru ar ddydd Sadwrn, 30 Mai am 14:00 a rhaglen S4C am 20:00.
Amazon Devices and Accessories,
Amazon Devices. Find some of the best Amazon Devices and Accessories, electrical devices and gadget available on Amazon. Great products, great prices, delivered to your door.