John Stamos candidly recounted the ups and downs of his life and career in his upcoming memoir "If You Would Have Told Me."
The 60-year-old actor made a number of shocking revelations in the new book, which will be released on Oct. 24. When Stamos first announced his debut memoir last September, he explained that the sudden death of his "Full House" co-star Bob Saget and welcoming his first child at the age of 54 motivated him to finally share his story.
"'If You Would Have Told Me' is the book I never planned to write," the "General Hospital" alum wrote in a statement at the time. "But after losing Bob, finally becoming a father, and wanting to honor all the colorful people who have made me who I am today, I figured if not now, when? "If You Would Have Told Me" is my story about Hollywood, fame, fortune, and f—ups. It's also about home, heart, and healing."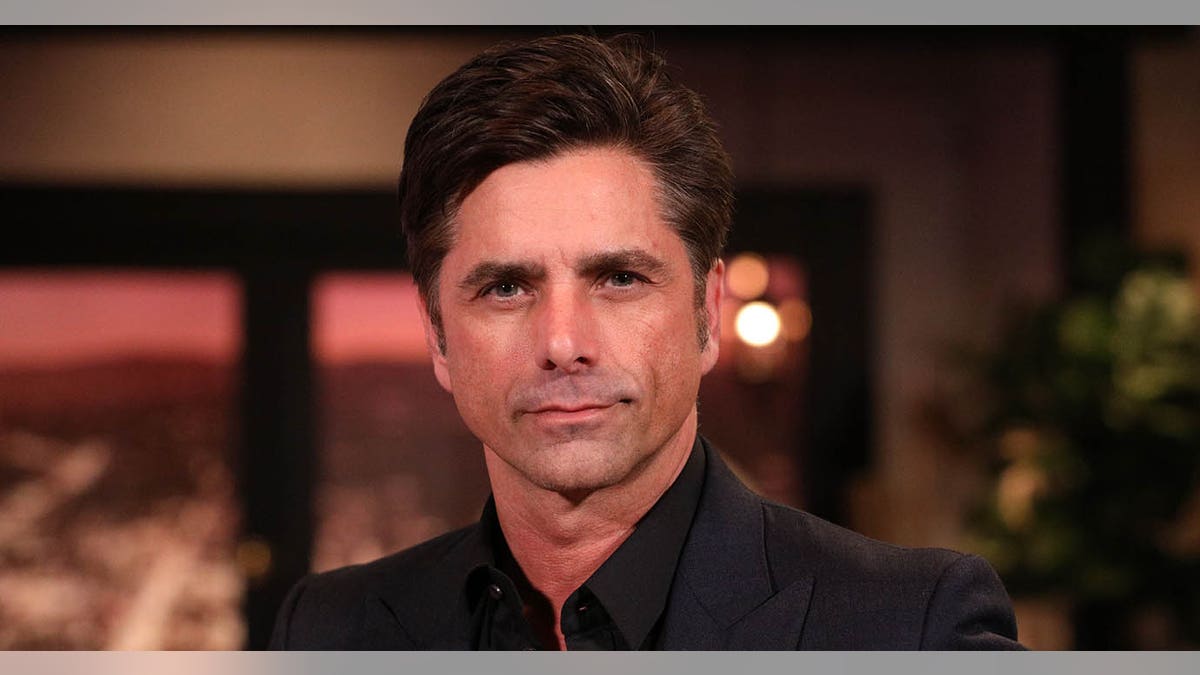 He continued, "Honestly, while writing this book I've realized I have about a million stories to tell, and I think you may like at least four hundred of them. It has been cathartic and healing and sometimes heartbreaking to dig in and reveal so much."
JOHN STAMOS 'HATED' EX REBECCA ROMIJN AMID 'VERY PAINFUL' DIVORCE
"This book is something between a confession and a challenge to find grace in the smallest moments of our lives. I hope my memoir offers a window into my heart and mind and helps readers find little moments of magic that make life worth living. Get everything you want and live happily ever after, but have the humility to trust in something greater than yourself for guidance."
Saget, who starred alongside Stamos in the hit sitcom "Full House" from 1987 to 1995 and in the show's Netflix spinoff "Fuller House" from 2016 to 2020, died due to blunt head trauma in January 2022 at the age of 65.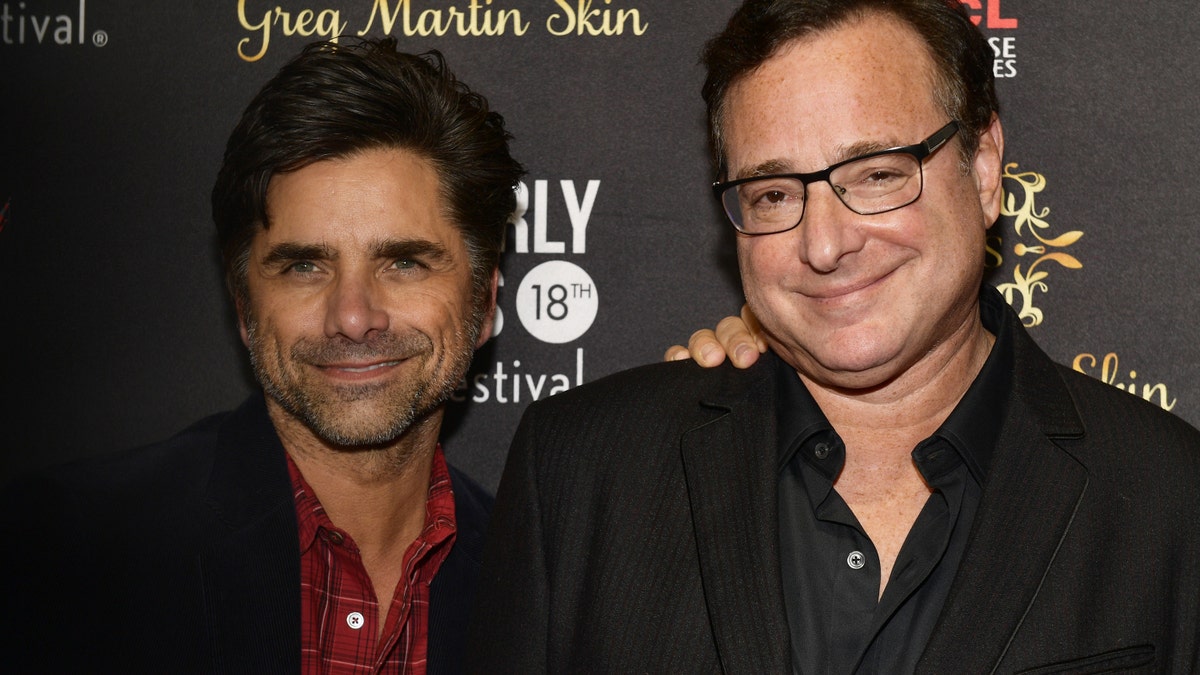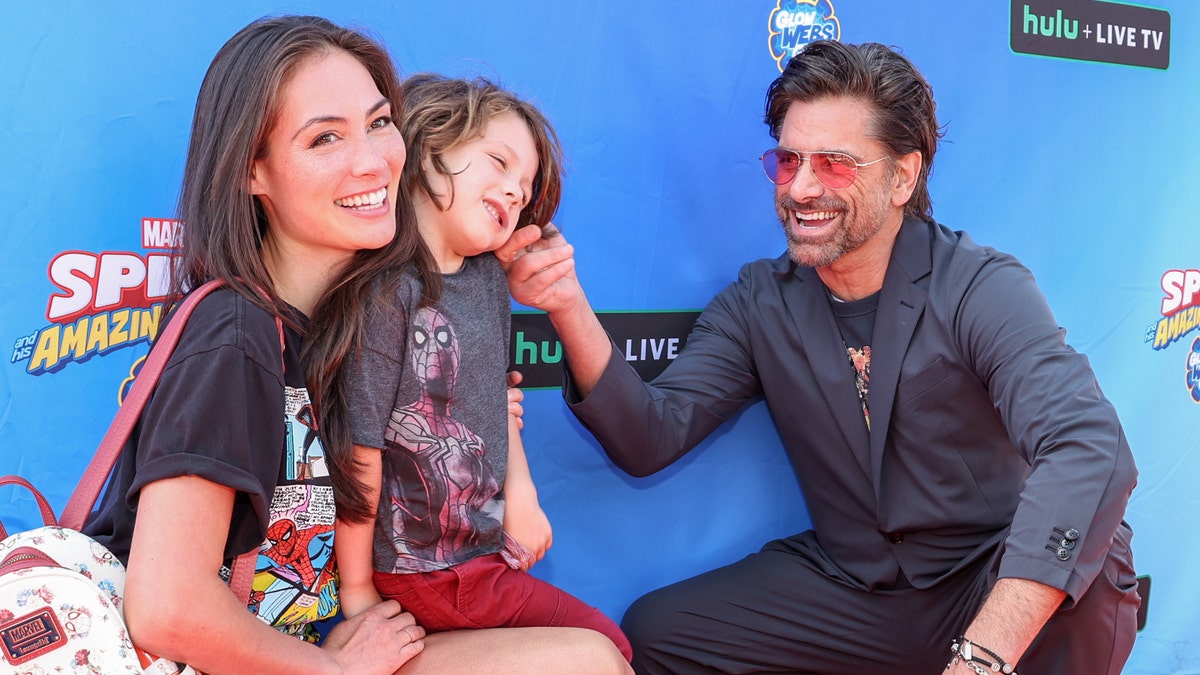 In October 2017, Stamos announced his engagement to model and actress Caitlyn McHugh, 37, after the pair first met in 2016. Stamos and McHugh tied the knot at the Little Brown Church in Studio City in February 2018. The couple share a five-year-old son named Billy. 
"If You Would Have Told Me's" publisher Henry Holt describes the memoir as "the story not only of a life lived in front of the camera, but of the surreal highs and devastating lows of a misunderstood heartthrob who has always remained a dorky kid from Orange County, and of his midlife quest to find sobriety and a family of his own."
Here's a look at the biggest bombshells from "If You Would Have Told Me."
Childhood sexual abuse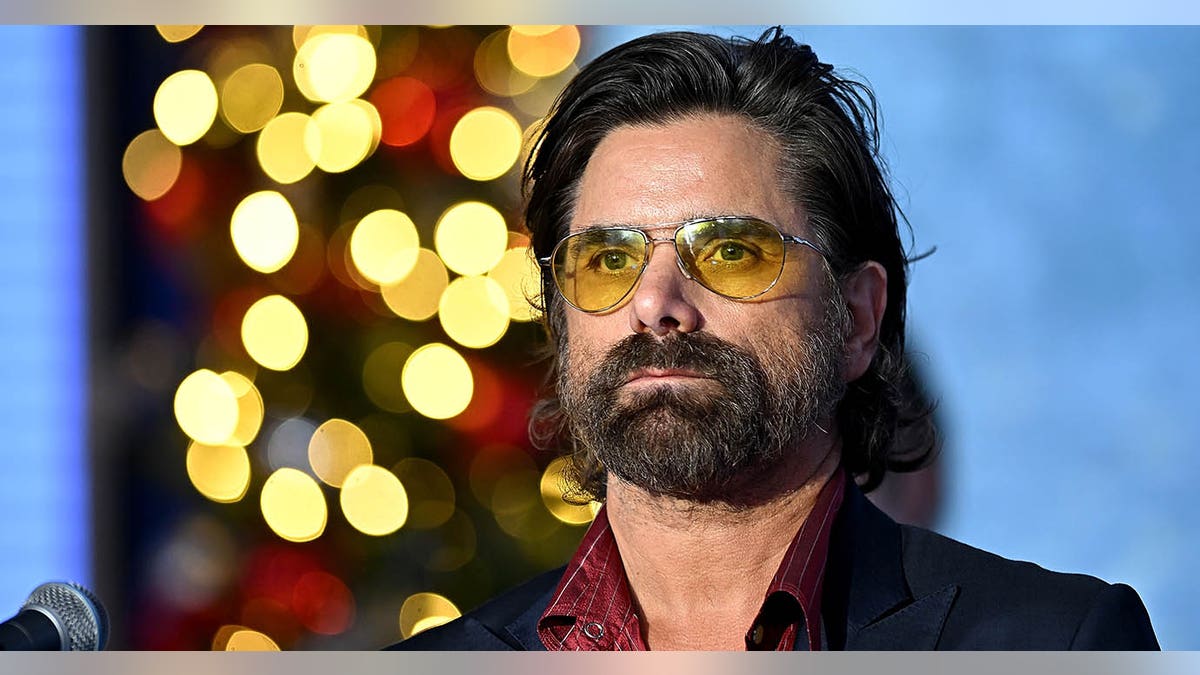 Stamos alleged that he was the victim of childhood sexual abuse in an interview with People magazine, published ahead of the book's release. 
Per People, the Daytime Emmy Award nominee claimed in his memoir that he was molested by a babysitter when he was "10 or 11."
Stamos shared that he "didn't tell" anyone about the abuse at the time. "I think I told myself, like, 'Ah, it's girls, man,'" he recalled.
"It was like you're playing dead so they'll stop. But it wasn't totally aggressive," Stamos added. "I don't know, it was not good."
During his interview with People, Stamos explained that "it took me writing a book" to come to terms with the alleged abuse.
APP USERS CLICK HERE 
"I mean, I knew, it was always in the back, and I do so much advocacy for the [survivors]," he said. "I felt like, I remembered it slightly. It has always been there, but I packed it away as people do, right?"
For the past 20 years, Stamos has served as a Celebrity Ambassador for ChildHelp, a nonprofit organization that works to prevent child abuse and provide treatment to survivors.
Stamos told People that the memories of his own traumatic childhood experience first surfaced while he was penning an acceptance speech for an award that he was given in recognition of his advocacy on behalf of abused children. 
 "I started to write it, and that's when it really came out," he remembered. "And then I thought, 'No, tonight is not about me. It's about the kids. I'm going to pack it away again until the right moment,'"
 "Otherwise, I'm a phony f—,"  Stamos added. "It's like, 'Come on.'"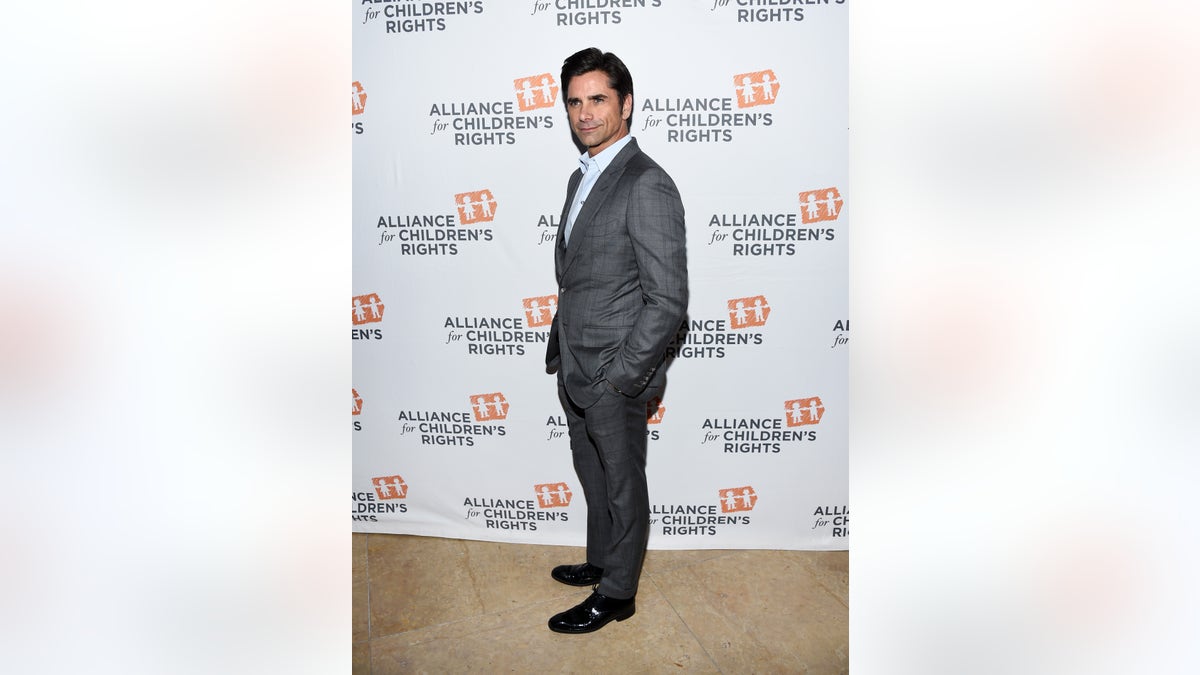 The former "E.R." star told People that he didn't want alleged childhood sexual abuse to be the focus of "If You Would Have Told Me," but felt that he needed to include it.
"I didn't want the headlines to be that, and I didn't want the book to be over that," Stamos said. "It was a page or something, but I felt I had to talk about it. It was weird. It was something that, I think, I was probably like 10 or 11 [when it happened]. I shouldn't have had to deal with those feelings."
Now that he is a father himself, Stamos reflected on how he would handle the situation if his son Billy was the victim of childhood sexual abuse. 
JOHN STAMOS OPENS UP ABOUT STRUGGLE WITH SOBRIETY, LONGTIME COSTAR BOB SAGET'S DEATH
"I'll tell you, if I found out someone was doing that to my son," Stamos said, "that's a totally different story."
Stamos told People that it was important for him to be completely transparent about the high points and the dark times in his life while writing "If You Would Have Told Me."
"I did set out to write a hero story, but then as I was doing it I was like, 'No, I'm going to tell a human story,'" the actor explained. "Because with the hero story, that's bulls—. "
"And unless I was a hundred percent forthcoming, what am I doing this for, right? But it was hard."
Divorce from Rebecca Romijn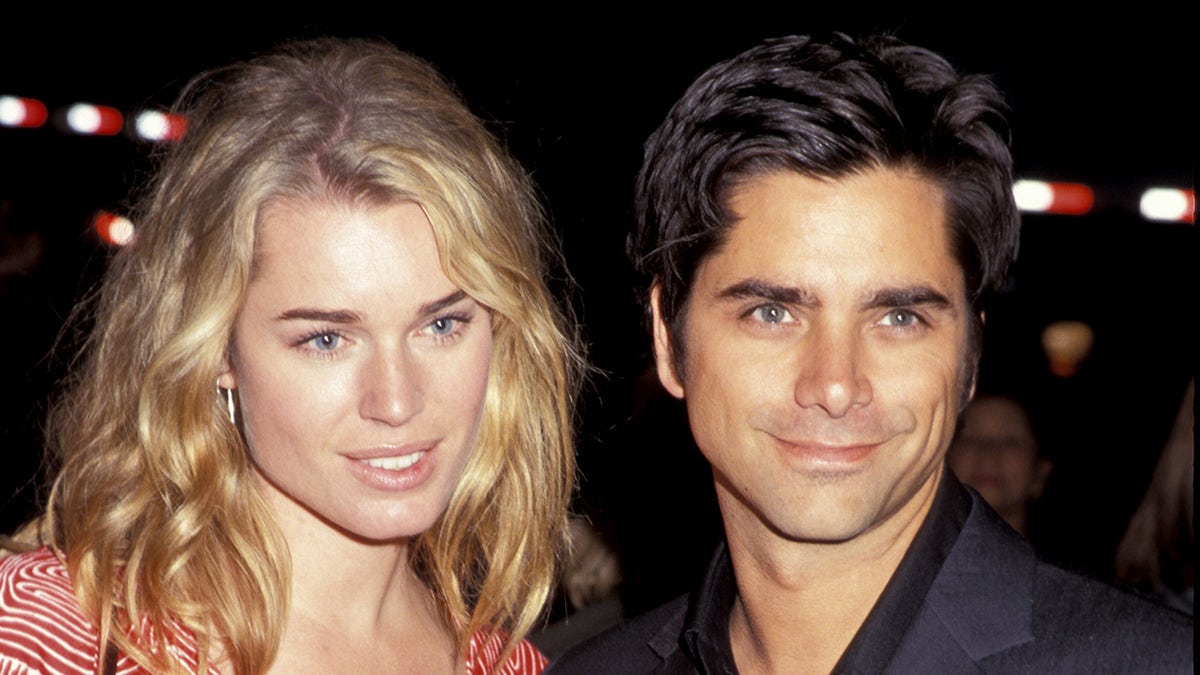 Stamos admitted to People that he found it "really difficult" to write about his first marriage to Rebecca Romijn and the pain he experienced after their divorce in "If You Would Have Told Me.
The "Grandfathered" actor began dating the model and actress in 1994 after they met backstage at the Victoria's Secret Fashion Show. Stamos proposed to Romijn on Christmas Eve in 1997 and the two married in September 1998.
In April 2004, the former couple announced that they had separated and Stamos filed for divorce in August of that year. Their split was finalized in March 2005. Stamos told People that he hasn't seen his ex-wife since a joint meeting with their divorce lawyers.
"My first marriage was shattering to me. I was shattered for way too long, too," Stamos told the outlet. "I mean, a year, okay, good. But it went on [for] years and years."
While Stamos was writing chapters in his book, he was challenged by memories of the past.
"In my mind back then, she was the Devil, and I just hated her," he said. "I couldn't believe how much I hated her, and it ruined my life.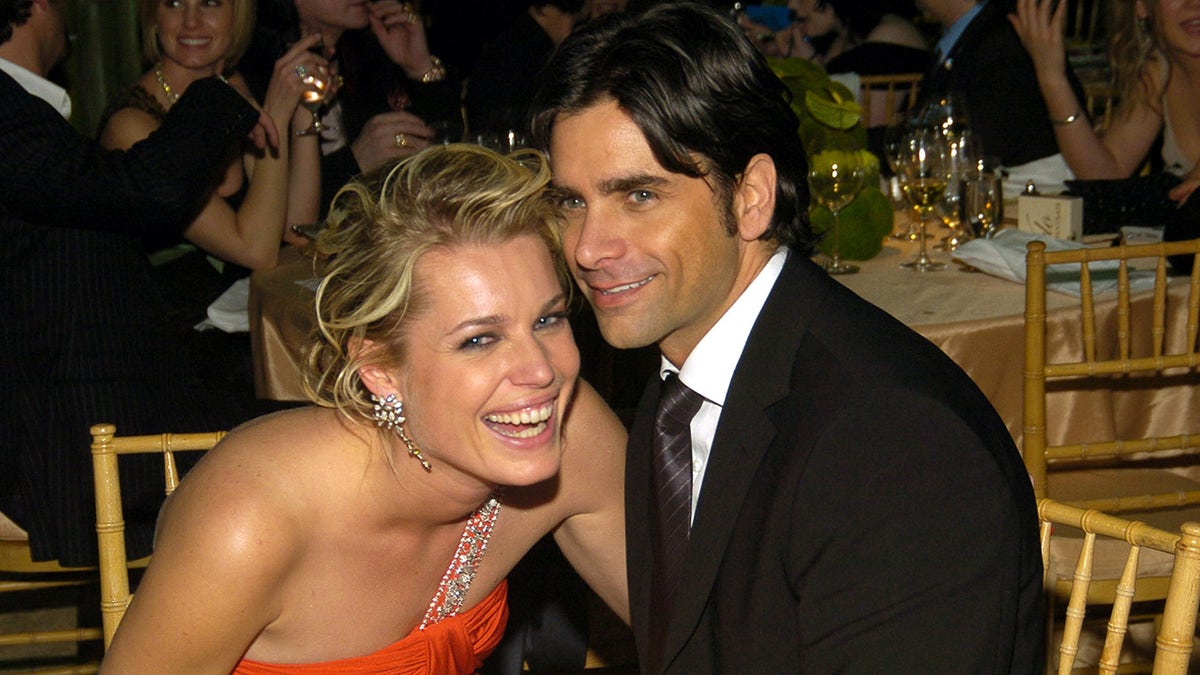 Stamos, who is a recovering alcoholic, shared that he struggled to deal with his lingering feelings about the split while following the Twelve Step program in Alcoholics Anonymous.
"Looking back, and I talk about it [in the book], because it's one of the steps in AA where the fourth step is you lay out all your grievances, everything that people did to you. I go like, 'None.'"
Through the process, he was able to recognize having "some part" in the end of his first marriage.
"You start thinking, it's like, 'Oh, she wasn't the Devil. Maybe I was as much to blame as her.'"
JOHN STAMOS STRIPS DOWN TO CELEBRATE MILESTONE BIRTHDAY: 'THE OTHER SIDE OF 60'
The former soap opera star said that he felt Romijn "was trying to make it work because she cared" about him before they divorced.
"It was very public, and that was very painful. I didn't write much about that, but it's hard," he said.
"It was very much the opinion that she dumped me because her career was going great, and mine wasn't, and that's humiliating," Stamos added. "I don't blame her for it. It was just the perception that people took, and maybe they weren't wrong. She was doing great at that time, and I wasn't.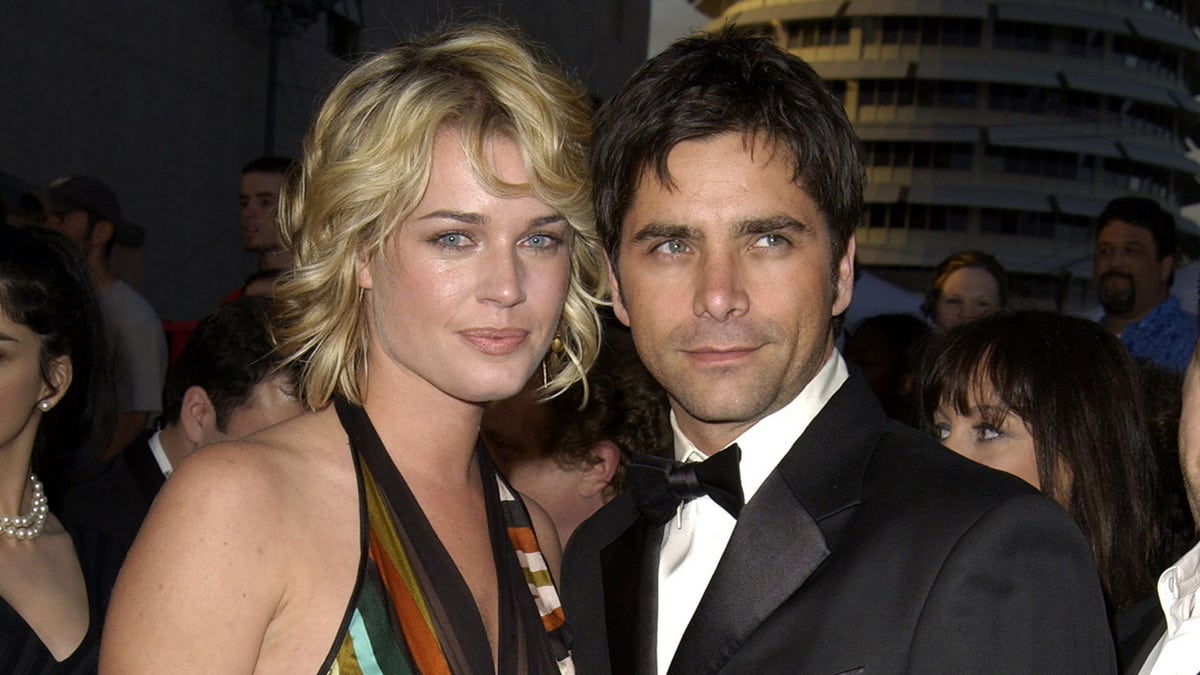 When Stamos and Romijn split, she was riding a career high as one of the stars of the popular "X-Men" movie franchise, with multiple film projects in the works.  During that time, Stamos took on roles in television movies, made guest appearances on shows including "Friends" and starred in two short-lived TV series, "Thieves" and "Jake in Progress." 
In 2006, Stamos landed a recurring role on the hit medical drama series "ER," starring as Dr. Tony Gates until the show's conclusion in 2009.
Stamos told People that his coping process following the divorce "was not healthy."
"That's when I really started to kind of drink a lot," he recalled. "But without that, I never would've known what a real love is, and I would've never straightened up to get someone like Caitlin in my life."
LIKE WHAT YOU'RE READING? CLICK HERE FOR MORE ENTERTAINMENT NEWS
"If I didn't go through all the things, all the heartache, I wouldn't be who I am today," Stamos explained. "That's what I hope people take away from it."
Romign, 50, married actor Jerry O'Connell in 2007 and the pair share twin daughters, Charlie and Dolly, 13.
Battle with Alcoholism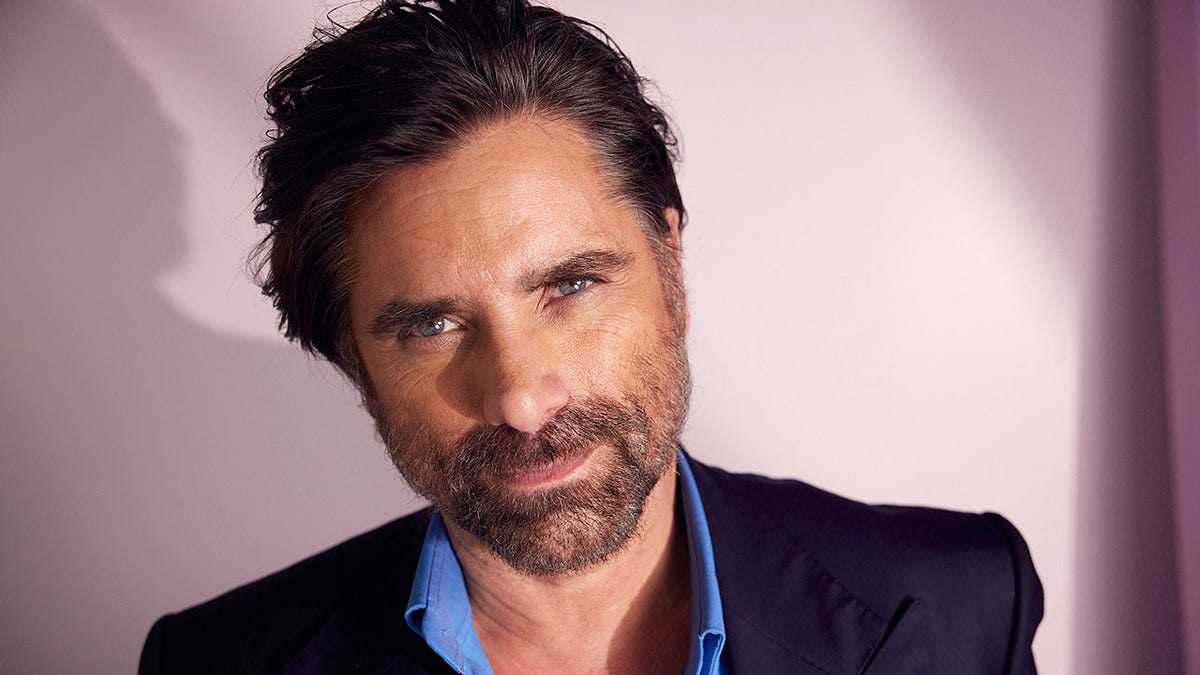 In "If You Would Have Told Me," Stamos detailed his struggles with alcohol addiction and opened up about hitting his lowest point when he was arrested for driving under the influence in 2015.
"I had to sober up. I was just drinking too much," Stamos told People. "I just went low. I didn't go high. I just surrounded myself with people I shouldn't have been with."
In June 2015, Stamos was pulled over in Beverly Hills after police received a call from a witness who reported seeing the actor driving erratically. After being arrested, Stamos was taken to the hospital and photos of the star in handcuffs appeared in a number of tabloids.
"I had that DUI and I was like, 'I can't do this. I've got to straighten up,'" Stamos remembered. "That's when I was confusing the universe because I'm not a bad person, but I was doing crappy things."
After the arrest, Stamos checked himself into a rehabilitation facility, which he told People "was dark for a little bit."
However, he recalled that his stay in rehab "started to get better" and he eventually "made a lot of really good friends."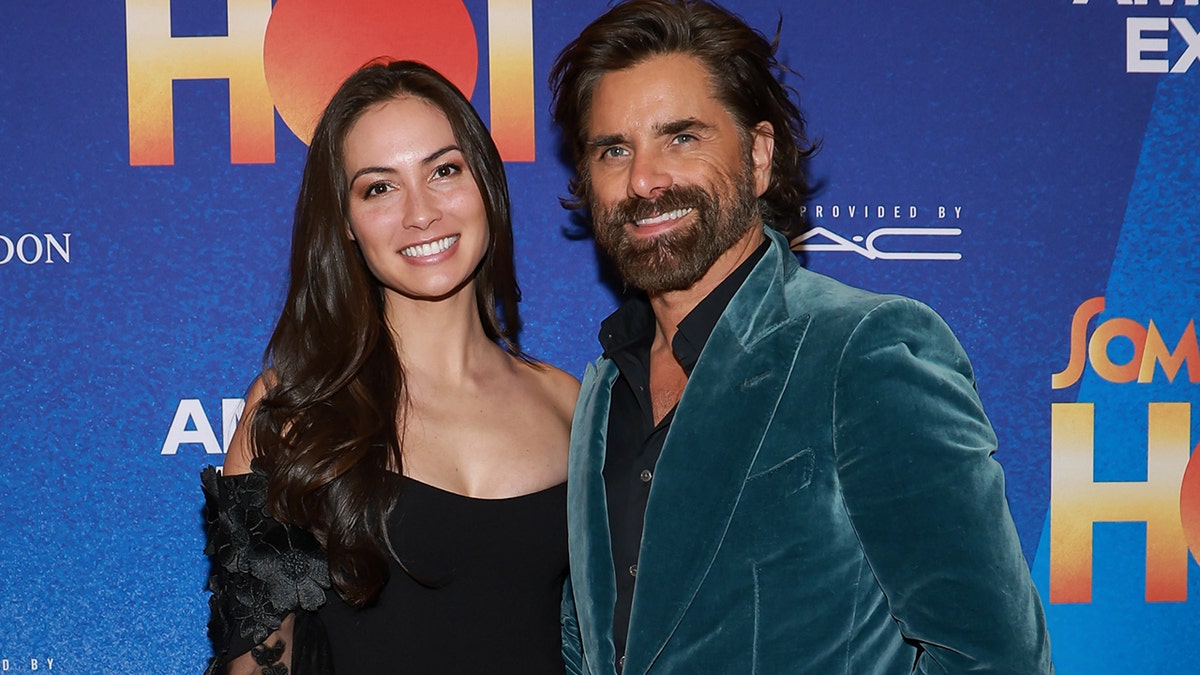 "I had a lot waiting for me, and I feel bad because a lot of people don't, because they burned their lives down," he said of leaving rehab. "Luckily, I had my sisters, but I also had "Fuller House." I got home and I think like a week later, we started "Fuller House."
Stamos gave credit to Caitlyn and Billy for helping him maintain his sobriety over the years.
"They have kept me on this path because going down the road of being sober and taking care of yourself, everybody tries. Everybody does it. You could get going for a little while. Then, it's like, 'I can drink again,'" he said.
 "So it's staying on the path is what they mostly do for me," Stamos added.
CLICK HERE TO SIGN UP FOR THE ENTERTAINMENT NEWSLETTER
When asked if he had experienced any "setbacks" during his sobriety journey, Stamos told the outlet that he has "been pretty good."
"It's hard, but it's not because it's hard for a lot of people," he noted. "It's not that hard for me because it's still so fresh in my mind that all I have to do is look at that picture of me in handcuffs on that street."
"I was sitting on a curb or whatever. It just makes me throw up right now just thinking [about it]," Stamos explained. 
"Never again."
Finding his girlfriend Teri Copley naked in bed with Tony Danza
In his memoir, Stamos alleged that he discovered his then-girlfriend Teri Copley was cheating on him with Tony Danza, according to an excerpt from the book obtained by Entertainment Weekly.
Stamos recalled that he fell in love with the model and actress shortly after they first met in the 1980s.
"She's everything I'm looking for in a woman," he wrote. "She has an adorable daughter, Ashley, from a former relationship, and I love the idea of stepfatherhood. I'm starting to imagine our little family coming together. I'm dumbstruck and goofy in love. I could spend the rest of my life with her. Who knows if I'll ever find love again? Why not take a chance?"
After the pair had been dating for more than a year, Stamos recalled that Copley started becoming more distant when he would go out of town "doing car shows and gigs."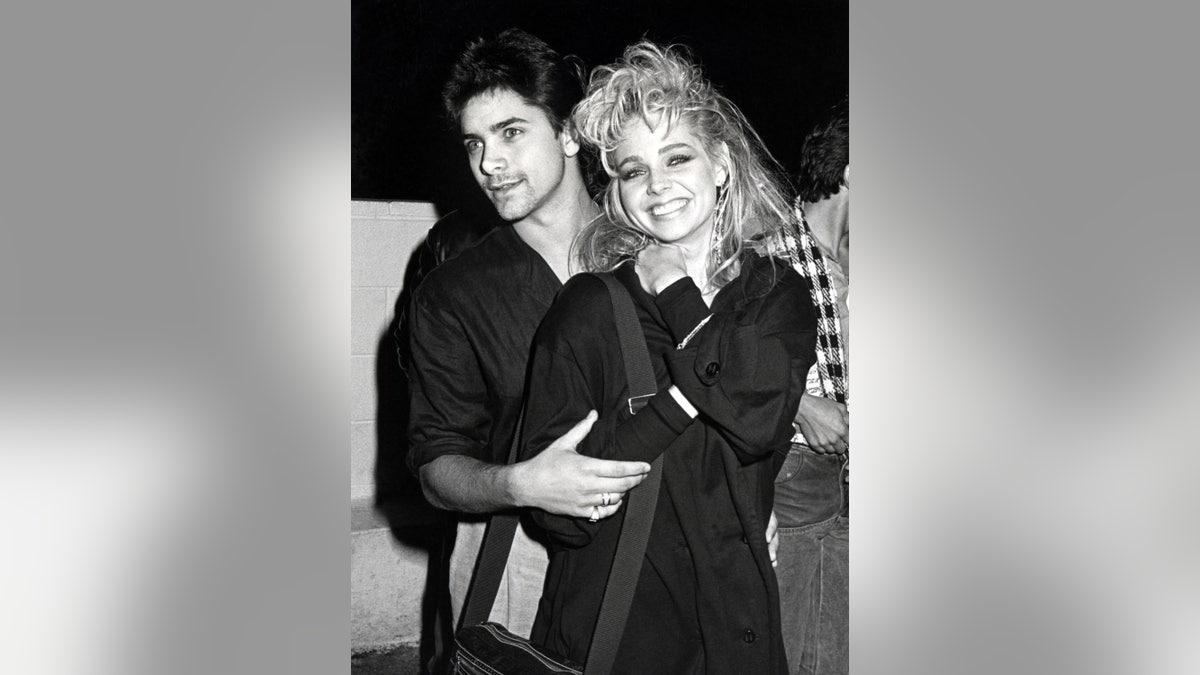 "I call her from the road, but the girl who breathlessly picked up the phone after one ring is now giving me busy signals and dial tones," he remembered. "When I get home, I call her throughout the day and into the evening. No response. Strange. We've gone from talking on the phone every few hours to silence."
Though he initially assumed that she was busy with audition and modeling jobs, Stamos became worried after he didn't hear from her for a while.
Stamos recalled that he decided to drive to her home in the San Fernando Valley, where he noticed that there was "no lights on" and "no movement behind the windows." 
However, the actor saw an unfamiliar car parked in Copley's driveway. "A black 1957 Porsche 356 Speedster, vintage convertible. Strange. I shuffle to the car with my stomach sinking and take a quick look inside," Stamos wrote. 
He continued, "There's a hairbrush, keys, boxing gloves, and a half-unrolled poster of my girlfriend, naked, barely covered by a white sheet. Half of her butt is showing. I've never seen this poster before."
According to EW, Stamos wrote that after discovering that both the front and back doors were locked, he went to the guest house, where he and Copley would sometimes sleep.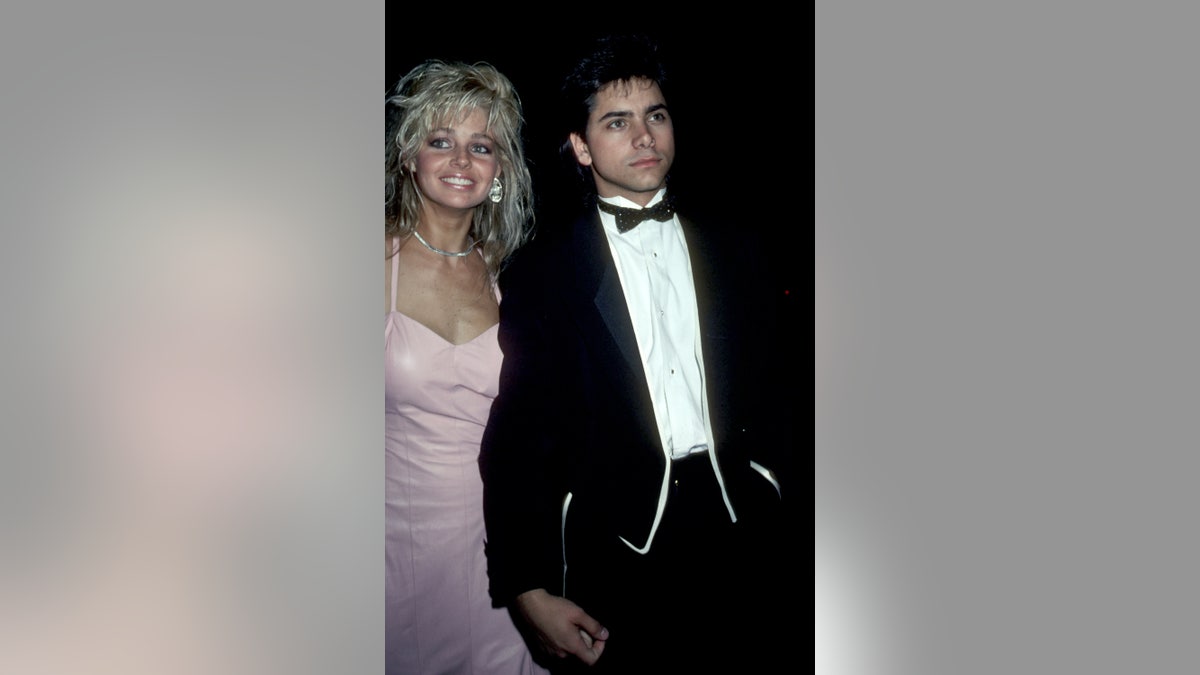 "The blinds are closed, but the door is slightly open," he remembered. "I take a peek inside and see four feet protruding from the shabby-chic, floral-print duvet that once kept me warm. My Tiny Dancer is in bed with Mr. Porsche Speedster. They are sleeping. I can't tell who he is, but I recognize Teri's a– barely covered by the sheets. It looks like her new poster."
Describing the discovery as his "worst nightmare," Stamos recalled that he tried to "hold back tears."
"Time slows until I'm frozen," he continued. "I can't breathe. A few tears roll down my face, and it pisses me off. They snap me out of my daze, and I feel angry and confused. I could explode."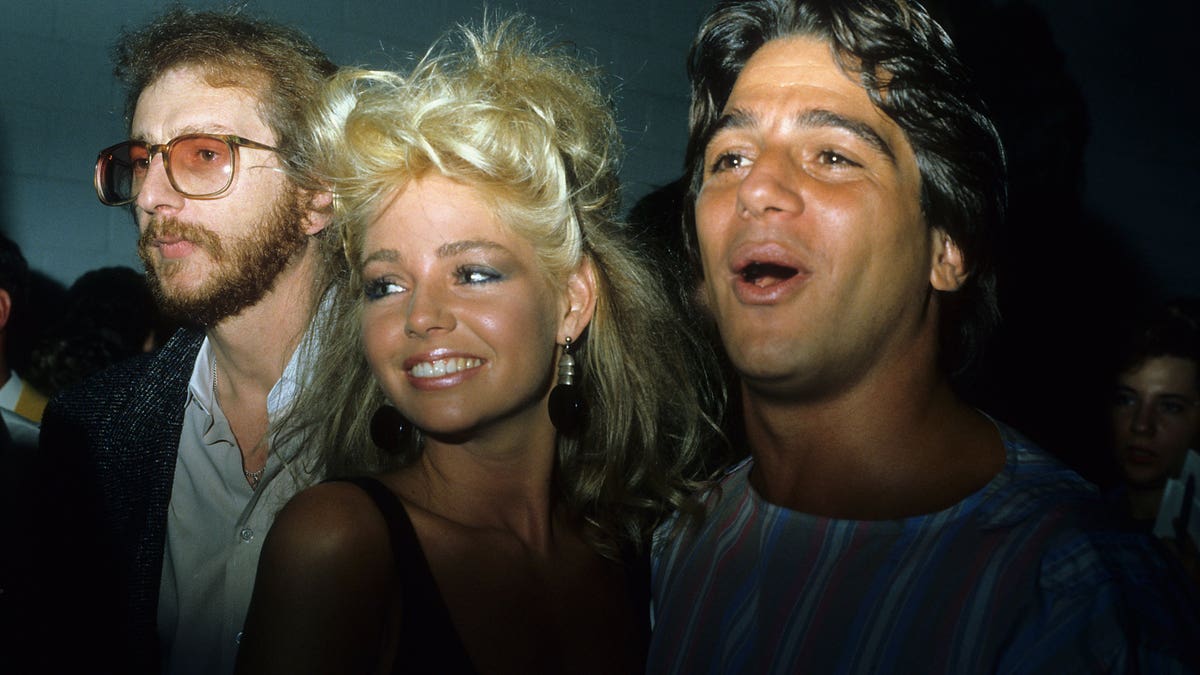 Stamos recalled he was unsure how to deal with the strange man in bed with Copley. "Do I pull him out of the bed by his hair, kick him in the nuts, and beat his a–?" he remembered asking himself. "She's my girlfriend. Who is this piece of s—? He looks familiar. Content bastard. He rolls over, exposing his ripped abs and muscular body."
Stamos wrote that he ultimately opted to "run like hell," since he decided it was "not the time or place to save an ego that's shot to s—." However, he revealed that he took the poster of Copley from the car before leaving. "I stare at the two-dimensional, half-dressed woman that I thought I knew."
"She's signed the poster, with little hearts, 'My Dear Tony, I'll love you forever. XO, Teri,'" he recalled. "Tony? Who the hell is Tony?" 
Stamos wrote that "the name of my rival" came to him as he was driving home and listening to Elton John.
"Hold me closer, Tony Danza," he remembered.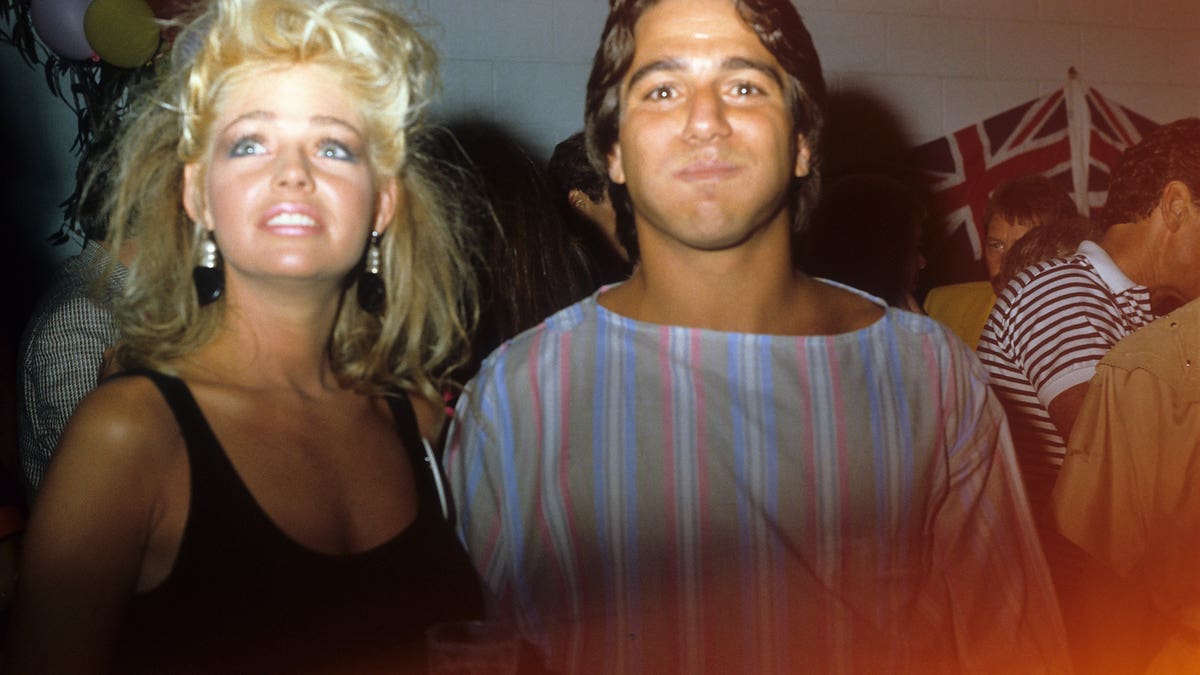 However, it wasn't all bad blood. Per EW, in another chapter of Stamos' memoir, the actor credits Danza's "Who's the Boss?" with helping his own show "Full House" gain steady viewership during its initial season.
"If you would have told me the day I walked into that room and caught my true love in bed with another guy that his show Who's the Boss? would launch Full House into a bona fide hit, making me a household name…," Stamos shared. "Well, what can I say? Thanks, Tony Danza."
CLICK HERE TO GET THE FOX NEWS APP
Fox News Digital has reached out to reps for Copley and Danza for comment. 
Fox News Digital's Tracy Wright contributed to this report.