Indian Wells: WTA chief Steve Simon says organisation is supporting Ukrainian players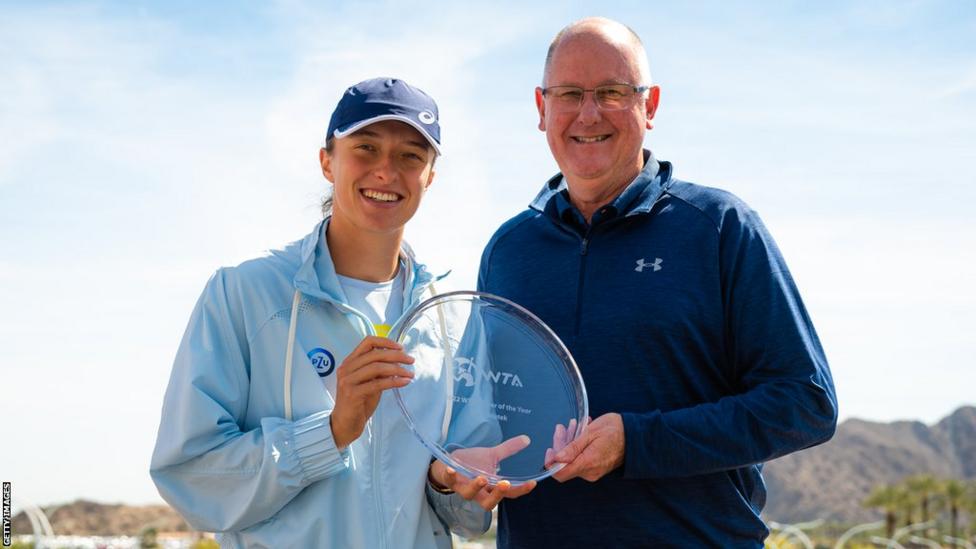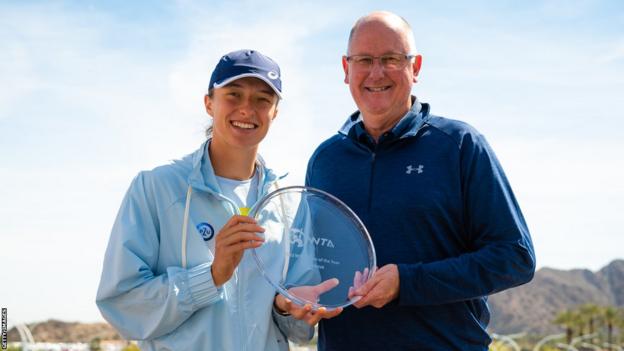 WTA chief executive Steve Simon insists his organisation is doing as much as it is able to for players from Ukraine.
She argued stricter guidelines and better leadership may have prevented Russia's Anastasia Potapova wearing a Spartak Moscow shirt at Indian Wells earlier this week.
"We continue to do as much as we have the ability to do," Simon told BBC Sport.
"We have done a lot for our athletes, I know there's a variety of opinions on that out there.
"What's going on in Ukraine is reprehensible. You can't support it any way – nor what the Russian government is doing.
"We spoke with Anastasia directly and also have given her a warning so she knows that this was not appropriate and I don't think we will see any further instances of this going forward."
Players from Russia and Belarus have been classified as neutral athletes since the start of the war, but, as Aryna Sabalenka said after winning the Australian Open in January: "I think everyone still knows that I'm a Belarusian player."
The All England Club and the LTA are currently finalising plans that will allow these players to compete on the grass this summer.
And the International Olympic Committee has signalled its desire to help Russian athletes compete at the 2024 Paris Olympics.
But Simon denies tennis' resistance to Russia's war is weakening.
"Our sympathies are at the highest level with everybody in Ukraine and I don't think any of us can properly understand what they are going through," he said.
"I don't think that any of this is lessening what's going on over there.
"We continue to speak with [Russian and Belarusian players] and make sure they understand about the sensitivities here and that they are competing as neutral athletes. I think there is a strong understanding on that.
"We've always had the position – and it's been a fundamental position of the tour – that every player that is eligible should be allowed to play. And this is irrespective to decisions that may have been made by local governments.
"We've been consistent with that and we are going to stay consistent with that. We think that the neutral approach is appropriate."
Decision on Chinese tournaments pending
A decision on whether there will be any WTA tournaments in China this year will be made in the next few weeks.
Simon has said repeatedly the WTA will pull out of China permanently unless the authorities carry out a transparent investigation into Peng Shuai's allegations of sexual assault against a former Chinese vice-premier.
"We are still evaluating it," said Simon.
"We've said we would make a decision at the end of the first quarter, or the early second quarter of this year. No decision has been made as of yet.
"My position on that has not changed. But obviously we have a board that are evaluating that right now and it will be a board decision."
WTA seeking more 'prime time' matches
Earlier this month the WTA Tour announced a strategic partnership with CVC Capital Partners, which will see the private equity firm invest $150m (£125m) into women's tennis.
It is hoped this investment will help create an even higher profile for the women's game and drive up prize money, which significantly lags behind the men's ATP Tour.
But to achieve that, Simon argues, scheduling needs to be fairer.
He is hoping this year's French Open night sessions, for example, will not feature nine men's matches and one women's as they did last year.
"We've spoken to all of the Grand Slams, and all of our combined events, with respect to scheduling," said Simon.
"It's something that's very, very critical. At the end of the day, you are what you say you are.
"Unless you are showing the product in your prime time windows you are telling the consumer what the value is.
"So it is very very important that there is a mixture between the men and the women in the prime time spots."
Amazon Devices and Accessories,
Amazon Devices. Find some of the best Amazon Devices and Accessories, electrical devices and gadget available on Amazon. Great products, great prices, delivered to your door.