Huw Edwards 'wedi cael Covid-19' yn ddiweddar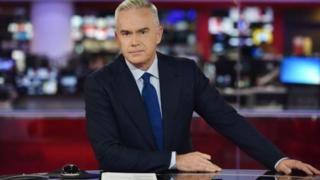 Mae'r newyddiadurwr a darlledwr Huw Edwards wedi datgelu ei fod wedi dioddef cyfnod o salwch o'r gwaith am dair wythnos ar ôl dioddef yr hyn y mae'n ei amau oedd coronafeirws.
Wrth ysgrifennu erthygl i gylchgrawn Barn, dywedodd ei fod wedi datblygu symptomau tra'n cerdded yng Nghaint ganol fis Mawrth.
Daeth y cyfnod o gyfyngiadau cymdeithasol llym i rym ar 23 Mawrth yn y DU.
Er na chafodd ei brofi am coronafeirws, dwedodd fod meddyg oedd yn ei drin ar y pryd "yn gwbl argyhoeddedig mai Covid-19 oedd wrth wraidd y peth."
'Tostrwydd ffyrnig'
Dywedodd ei fod wedi dychwelyd i'r gwaith wedi cyfnod o orffwys "gan ddeall yn iawn beth oedd natur ffyrnig y tostrwydd."
Roedd wedi bod ar daith gerdded 10 milltir o hyd rhwng Faversham a Seasalter, sef taith yr oedd fel arfer yn ei chwblhau'n ddigon rhwydd.
"Serch hynny fe roes y daith yn ôl broblem enfawr i mi. Datblygais boenau enbyd yn y coesau a'r cluniau a'r ysgwyddau," dywedodd.
Bu bron iddo fethu a dal y trên yn ôl i Lundain, "a dyna ddechrau profi effeithiau niwmonia, a'r meddyg yn gwbl argyhoeddedig mai Covid-19 oedd wrth wraidd y peth, er na chafwyd unrhyw brawf o hynny yn ffurfiol."
Yn yr un erthygl ar gyfer Barn, fe amddiffynnodd ddidueddrwydd y BBC, gan ddweud fod y gorfforaeth yn profi ymosodiadau o'r dde a'r chwith yn wleidyddol.
"Gwas chwipio cyfleus i wleidyddion o bob lliw fu'r BBC erioed", meddai.
Wrth drafod dyfodol y BBC, fe ddywedodd mai gwaith y BBC oedd i "osod y ffeithiau yn glir" a bod "cyfraniad a chyrhaeddiad y BBC yn ddiymwad".
Amazon Devices and Accessories,
Amazon Devices. Find some of the best Amazon Devices and Accessories, electrical devices and gadget available on Amazon. Great products, great prices, delivered to your door.