Everton 1-1 Liverpool: Goodison's record-breaking night 'almost everything we hoped'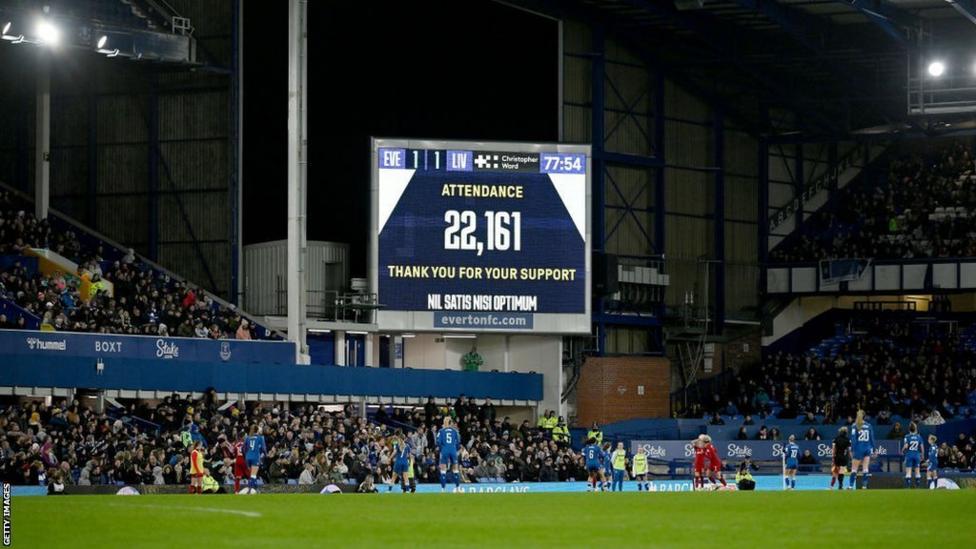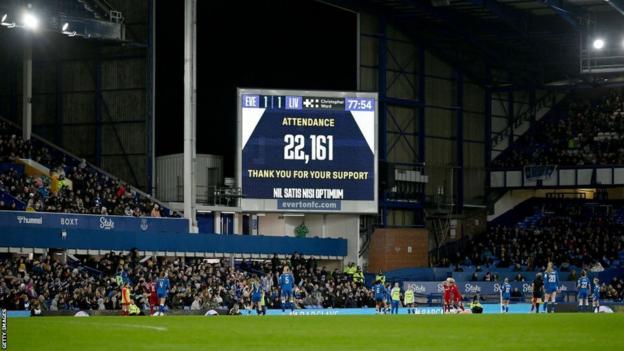 A derby match is a fixture that any football fan looks for in their team's calendar – a chance to revel in the atmosphere and potentially win bragging rights.
But as 22,161 fans piled into Goodison Park it didn't matter whether the shirt they were wearing was red or blue, it was simply an occasion to celebrate the start of Women's Football Weekend.
While the crowd – a new club record – had to settle for a draw, the result paves the way for a fixture steeped in history to develop into a healthy rivalry between two clubs trying to assert themselves in the Women's Super League.
Everton forward Nicoline Sorensen said the much-anticipated match was "almost everything we hoped for" after Gabby George opened the scoring for her side before Katie Stengel slotted home the equaliser.
"It was amazing, the fans were amazing," she told Sky Sports. "The last part that was missing was the win. But a fantastic night and the fans were fantastic."
It is the first time a women's derby match has been hosted at Goodison Park and the first appearance at the stadium for the Toffees since they were beaten 4-0 by Manchester City at the start of the 2021-22 season, in front of what was their previous record of 5,998 fans.
"I've been here for many of the men's games and it's the same vibe," said Everton boss Brian Sorensen. "This is what we want, that's why we play and hopefully we can have more of these."
Liverpool boss Matt Beard hopes it will inspire more fans to attend matches on a regular basis, calling it a "great advert" for women's football.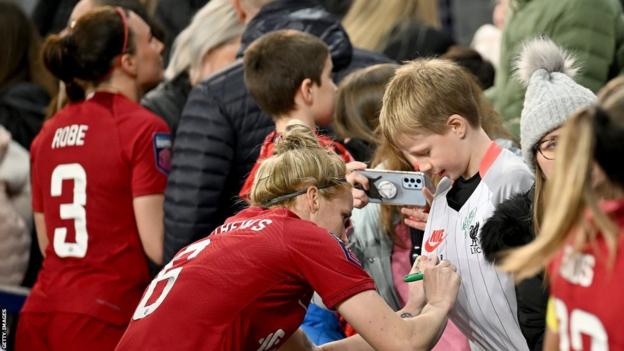 'We have to be careful talking about rivalries'
While a point is not the result the Toffees would have hoped for given their 3-0 demolition of Liverpool at Anfield in September, Liverpool now look certain to stay in the top flight – and an increasingly intense rivalry between the two clubs looks a mouth-watering prospect.
Yet off the pitch, Liverpool boss Beard said it was important to preserve the family-friendly atmosphere that has become synonymous with women's football.
"We have to be careful with rivalry, what we don't want is it to become like the men's game," he said.
"We have families – dads and daughters and mothers and sons – who come to our games and the last thing we want is to create an atmosphere where it's unsettling for the kids.
"Hopefully the fan bases will continue to grow but we have to be careful talking about rivalries, I don't think it's right.
"The game is young, we are still growing and we have to understand who comes to our games. These young girls are going to follow their teams throughout their life, this is the start of that journey."
Before the match the fan zone was open to all fans and many children and families were sporting a mixture of Everton and Liverpool shirts or half and half scarves, while any chanting or taunting was only in jest.
Inside the ground, the noise that followed Stengel's equaliser showed that rather than just constrained to their away allocation in the corner of the Bullens Road Stand, there were many Liverpool fans peppered around the stadium but without issue.
Blue and red scarves were waved in almost equal measure as chants from both sets of supporters rang around the ground.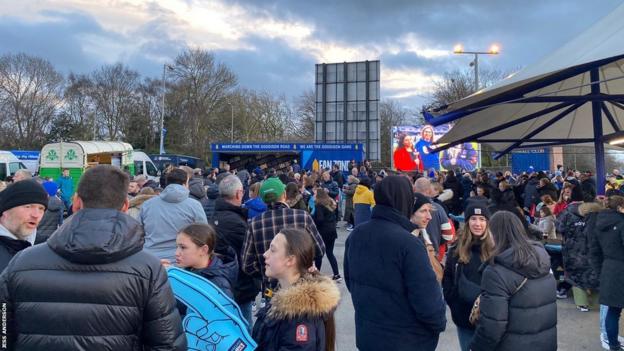 'What football is all about'
Fans outside the ground before kick-off revelled in the light-hearted atmosphere with many saying they would attend more matches if they were held at the larger stadiums.
Everton fan Kelly, attending the match with her eight-year-old daughter Layla, said the atmosphere is "better" than at their usual ground, Walton Hall Park, but admitted the club may not attract the same interest were it not a derby match.
Toffees boss Sorensen called for more matches to be played at Goodison Park, saying the atmosphere was "magic". He added that he thinks people would come to other games, not just the derby.
But Everton's highest attendance so far this season at Walton Hall Park is 1,752 against Manchester United and attendance has been fewer than 1,000 at five out of their seven home games.
Many fans suggested it was the pull of a derby match that enticed them to the game on Friday. Everton Women Official Supporters Club secretary Peter McFarlane, speaking before the match, said it was important the right games were picked for Goodison Park in order to draw in the fans.
Liverpool fans Mark, Angie and daughter Charlie, who have been attending women's matches since they were in the Championship, said the mixing of so many fans from different teams is "what football is all about".
"It [women's football] is definitely getting bigger but this is how it should be," said Angie. "We like the family atmosphere and mixing together in the big stadiums."




Amazon Devices and Accessories,
Amazon Devices. Find some of the best Amazon Devices and Accessories, electrical devices and gadget available on Amazon. Great products, great prices, delivered to your door.