Doctor warns speeding motorcyclists during lockdown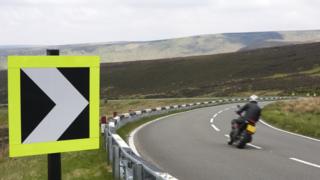 A trauma consultant has urged motorcyclists not to "take advantage" of quiet roads in lockdown after seeing a rise in serious crash casualties.
Prof Ian Pallister of Swansea's Morriston Hospital said one person had died and others had suffered life-changing injuries in the past week.
He said that followed eight weeks without a single case.
"Just because the roads are quiet does not mean they are any less dangerous," he said.
Police have also accused some drivers of using roads that are much quieter than usual as "racing tracks".
Prof Pallister speculated that could be why his hospital had seen a recent rise in motorcyclists with serious injuries.
"It could be that they [motorcyclists] are now starting to take advantage of the quieter roads and going out and about more," he said.
"However, just because the roads are quiet does not mean they are any less dangerous."
He said motorcyclists should, whenever possible, heed the message of stay at home, protect the NHS and save lives, to ease pressure on the NHS.
"Our theatre capacity is nothing like what it usually is," he said.
"We have to prioritise serious injuries and emergencies above everything.
"Unfortunately, that does mean someone else will not get the treatment they have been waiting for."
Dyfed Powys Police is among forces to have raised concerns that speeding motorists have been travelling at more than double the limit during lockdown.
Only essential travel is permitted in Wales under lockdown rules, unlike in England.
Amazon Auto Links: No products found.
Amazon Devices and Accessories,
Amazon Devices. Find some of the best Amazon Devices and Accessories, electrical devices and gadget available on Amazon. Great products, great prices, delivered to your door.