Cyfres 'I'm A Celebrity…' ITV yn dod i Abergele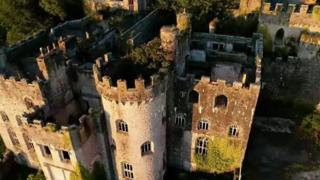 Fe fydd cyfres nesaf y rhaglen deledu boblogaidd 'I'm A Celebrity… Get Me Out of Here!' yn cael ei ffilmio yng Nghastell Gwrych ar gyrion Abergele yn Sir Conwy.
Hon fydd 20fed cyfres rhaglen ITV sydd yn cael ei chyflwyno gan y deuawd Ant & Dec.
Awstralia oedd lleoliad y rhaglen am flynyddoedd, ond eleni fe fydd yr enwogion, sydd yn cymryd rhan mewn treialon heriol fel rhan o'r sioe, yn dod i Gymru.
Dywedodd Dr Mark Baker, cadeirydd Ymddiriedolaeth Cadwraeth Castell Gwrych: "Rwyf wrth fy modd fod 'I'm A Celebrity…' wedi dewis Castell Gwrych fel ei leoliad Prydeinig ar gyfer cyfres 2020.
"Mae Castell Gwrych yn adeilad rhestredig Gradd I hyfryd o'r 19eg ganrif ac yn ymweliad sydd rhaid ei weld i dwristiaid sydd yn dod i Gymru.
"Bydd cael 'I'm A Celebrity…' yma yn gymorth mawr i gefnogi adferiad parhaus Castell Gwrych ynghyd a rhoi hwb economaidd sydd ei angen ar y rhanbarth."
Dywedodd yr Arglwydd Elis-Thomas, Dirprwy Weinidog dros Ddiwylliant, Chwaraeon a Thwristiaeth yn Llywodraeth Cymru: "Rydym yn hynod o falch o groesawu cynhyrchiad mor fawr i Gymru, gan gynnig cyfle i arddangos rhan drawiadol o'r wlad i gynulleidfa sylweddol ar draws y DU.
"Rydym yn edrych ymlaen i gydweithio gyda'r tîm ar y cynhyrchiad hwn ac yn gobeithio gallu defnyddio'r cyfle yma i ddangos rhywfaint o'r hyn sydd gan ogledd Cymru i'w gynnig."
Esboniodd Richard Cowles, Cyfarwyddwr Adloniant ITV Studios, ei bod yn her dod o hyd i leoliad yn y DU wedi i jyngl Awstralia fod yn rhan annatod o'r gyfres.
"Tra bydd digon o newidiadau wrth i ni symud o New South Wales yn Awstralia i ogledd Cymru yn y DU, rydym wedi ein cyffroi yn arw i weld sut bydd modd addasu'r fformat a throi'r castell yn gartref newydd ar gyfer 20fed cyfres arbennig o 'I'm a Celebrity… Get Me Out of Here' yr hydref hwn."
Amazon Devices and Accessories,
Amazon Devices. Find some of the best Amazon Devices and Accessories, electrical devices and gadget available on Amazon. Great products, great prices, delivered to your door.
Amazon Auto Links: No products found.