Coronavirus: Who should be wearing masks?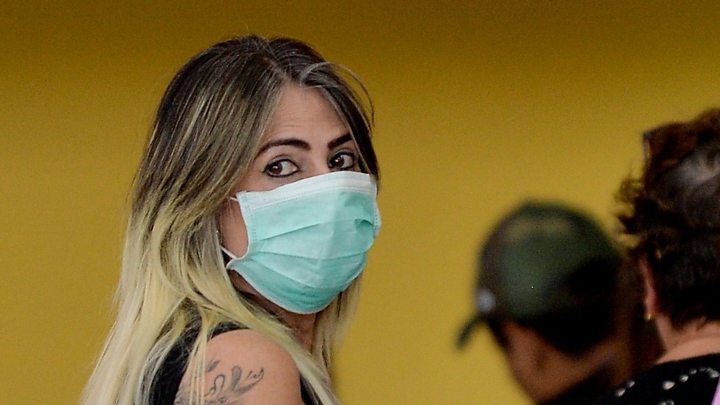 Masks can help stop the spread of coronavirus, but only if they are used in the right circumstances.
Currently, the World Health Organization says only two types of people should wear masks: those who are sick and show symptoms, and those who are caring for people who are suspected to have the coronavirus.
Why not get everyone to wear one?
So, for the general public, surgical masks are not recommended because:
they are not reliable protection (they can get contaminated by other people's coughs and sneezes)
Washing your hands often and keeping your distance from others is a more effective way to avoid coronavirus
there is a risk of contamination when you put masks on and take them off
masks might offer a false sense of security
Coronavirus is spread by infected droplets that can spray into the air when we talk, cough and sneeze. They can get into the body through our eyes, nose and mouth, either directly or if we touch a contaminated object.
Experts say masks worn by people sick with the virus could help prevent them from spreading it so easily to other people when they cough and sneeze.
What do I need to know about the coronavirus?
What type of mask?
Homemade facemasks are not recommended because there is no guarantee that they will provide enough protection, even when used in the correct way.
In hospitals, there are different types of mask that offer different grades of protection. The most protective (an FFP3 or an N95) is one that has a fitted respirator that filters air.
Experts do not recommend the public use these. They are for healthcare workers in close contact with coronavirus patients at highest risk of encountering infected airborne droplets.
Other NHS staff in lower risk situations can wear a surgical mask.
What else can protect against coronavirus?
Gloves and other protective wear are recommended for NHS staff working in places where they could encounter coronavirus.
Again, staff in the highest risk scenarios are advised to wear fuller protection, rather than a simple apron, gloves, mask and goggles.
The general public are not advised to wear gloves or any other protective gear.
To protect yourself from coronavirus the NHS recommends:
wash your hands with soap and water often – do this for at least 20 seconds
use hand sanitiser gel if soap and water are not available
wash your hands as soon as you get home
cover your mouth and nose with a tissue or your sleeve (not your hands) when you cough or sneeze
put used tissues in the bin immediately and wash your hands afterwards
do not touch your eyes, nose or mouth if your hands are not clean
Amazon Devices and Accessories,
Amazon Devices. Find some of the best Amazon Devices and Accessories, electrical devices and gadget available on Amazon. Great products, great prices, delivered to your door.