Coronavirus: The bogus meme targeting Dr Fauci, and other fake claims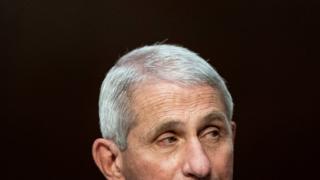 This has been a busy week for fact-checkers looking into false and misleading claims about the coronavirus pandemic.
A misleading video featuring American doctors clocked up over 17 million views before social media platforms took it down.
There have been plenty of other claims flying around on US social media accounts, some of which we've been debunking.
Claim: Dr Fauci says once manufactured, a Covid-19 vaccine should be rolled out before "proper studies" are done.
Verdict: The quote, widely shared on social media, is false.
A meme generating thousands of likes on Instagram and Facebook this week implies that Dr Anthony Fauci, who is leading America's coronavirus response, is of the view that a vaccine must be delivered for "immediate human injection. Proper studies can be performed later".
This same post also suggests Dr Fauci has refused to endorse the use of the drug hydroxychloroquine as a treatment for coronavirus because no "major study" has been done, presumably in an attempt to highlight the inconsistency of his position.
Amazon Auto Links: No products found.
Amazon Devices and Accessories,
Amazon Devices. Find some of the best Amazon Devices and Accessories, electrical devices and gadget available on Amazon. Great products, great prices, delivered to your door.