Coronavirus: Switzerland latest to join UK's quarantine list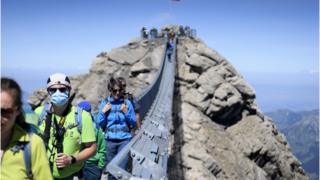 Travellers in Switzerland, Jamaica and Czech Republic who return to the UK from 0400 on Saturday must self-isolate for two weeks, the UK government says.
It said the move was needed to keep UK infection rates down.
People arriving in Scotland from Switzerland are already required to self-isolate.
Cuba, where there has been a drop in cases, will be added to the list of destinations people can return from without entering quarantine.
The UK considers imposing quarantine conditions when a country's rate of infection exceeds 20 cases per 100,000 people over seven days.
The government said data showed there has been a "consistent increase" in the weekly case rate in Switzerland over the past four weeks, with cases per 100,000 rising from 18.5 to 22 over the past week.
Over 1.6m Britons travelled to Switzerland last year, the Swiss Tourism Federation estimated. More than 300,000 British tourists visit the Czech Republic every year, according to the Foreign and Commonwealth Office.
The Foreign and Commonwealth Office (FCO) has also updated its travel advice to advise against all but essential travel to the Czech Republic, Jamaica and Switzerland.
There had been concern about a rising number of Covid cases in Gibraltar, but it remains on the UK's quarantine exemption list.