Coronavirus: Report 'rule of six' breaches, minister urges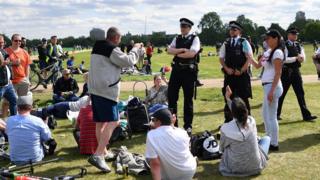 People should report their neighbours for any suspected breaches of new "rule of six" limits on social gatherings, the crime minister has said.
Kit Malthouse urged residents to pass on details of suspected law-breaking through non-emergency numbers.
From today, new rules restrict indoor and outdoor gatherings in England and Scotland, and indoor groups in Wales.
They come after the UK's reproduction, or R, number escalated to between one and 1.2 for the first time since March.
There were a further 2,621 confirmed cases of coronavirus in the UK on Monday, a fall after three consecutive days with more than 3,000 positive tests. But there have been widespread concerns about the availability of testing.
Nine more deaths were reported within 28 days of a positive test.
Asked on BBC Radio 4's Today programme whether a person should report a gathering of seven or more in a neighbour's garden, Mr Malthouse said: "It is open to neighbours to do exactly that through the non-emergency number.
"And if they are concerned and they do see that kind of thing, then absolutely they should think about it."
The crime and policing minister added there were "discussions about what reporting mechanisms there might be, but there is obviously the non-emergency number (101) that people can ring and report issues they wish to".
National Police Chiefs' Council (NPCC) chairman Martin Hewitt denied that enforcement of the rule of six relied on people "grassing up" their neighbours.
"It relies on all of us being responsible," he told BBC Breakfast.
Meanwhile, one in 20 people said in a survey of attitudes during the pandemic that they had reported others for rule breaches – Prof Bobby Duffy, director of King's College London's policy institute, told the BBC.
At-a-glance: What are the new rules?
Social gatherings of more than six people in England, Scotland and Wales will not be allowed in law from Monday 14 September with some exceptions
The new rule applies to people in private homes, indoors and outdoors, and places such as pubs, restaurants, cafes and public outdoor spaces
In Scotland, the rule applies to a maximum of two households and in Wales it applies to the same extended household
It applies to all ages in England, but not to those aged 12 and under in Scotland, and those under 11 in Wales in those households
The rule does not apply to schools, universities and workplaces, or weddings, funerals and organised team sports
A full list of exemptions has been published in England
People who ignore police could be fined £100 – doubling with each offence to a maximum of £3,200
Labour leader Sir Keir Starmer told LBC he backed the rules, adding: "You can make the argument of why not five or why not six or seven – you have to go with a number backed by the science and they say six, and I think we should abide by that rule."
Later, it was announced Sir Keir would self-isolate, after a family member showed possible coronavirus symptoms.
The new rules come into force amid reports that the UK's testing systems are overwhelmed, with Scotland's First Minister Nicola Sturgeon expressing "serious concern" over what she described as a backlog of results in the lab network.
Alice Wiseman, Gateshead's director of public heath, told the BBC local authorities had requested a mobile testing unit on Saturday, only to see it arrive a day late with dozens of people directed elsewhere for tests.
"We're not able to do contact tracing unless we have a positive result," she said. "In theory, there are potentially people walking around with Covid who just don't know."
Doris-Ann Williams, chief executive of laboratory testing industry body the British In Vitro Diagnostic Association, said delays to testing were being caused by a lack of staff and they were "trying to desperately recruit more" to increase capacity for the winter.
'It's difficult to understand'
As the new law on gatherings came into force, police in Bristol were soon explaining the changes to confused members of the public.
One mum was told her toddler's picnic – a group of seven – was now illegal. "It's very difficult to understand though, if I'm allowed to be in a pub with a group of people a metre apart but I can't be with my kids' friends," she replied to the officer.
Another woman, Nicky, said she thought her gathering of more than six was allowed because the children all attended school together. Groups like this would be allowed in nearby Wales and in Scotland, where children do not count towards the total.
"We could just go over the bridge and be with a much larger group of people," Nicky said. "It does feel a bit unfair."
Elsewhere, the new rule brought hobbies and clubs to a halt. Jacky Wadsworth, secretary of Rockingham Brass Band in South Yorkshire, said their 28-person band was like a "second family" but now members would not be able to meet at the same time.
They had hired a larger hall to allow for social distancing, but the new rules meant "we are back to square one".
The "rule of six" in England – hailed as "super simple" by Health Secretary Matt Hancock – replaces guidance on allowing two households to meet indoors and a previous ban on gatherings which exceeded 30 people.
Under the changes, larger gatherings are still allowed at gyms, schools, places of worship, weddings and funerals. Education and work settings are not affected.
And new details of exemptions published on Monday revealed that shooting, yachting and ultimate frisbee were among the sports that could continue in groups of more than six.
Some Tory MPs have also urged No 10 to exempt young children in England and called for a debate over the rules.
Groups larger than six can be broken up by police, with members of the group facing fines of £100 for a first offence, doubling on each further offence up to £3,200.
But it emerged that fewer than half of people fined under existing coronavirus regulations in England and Wales had paid their penalties.
A letter from the Attorney General, written on 25 August and published last week, said 46% of more than 19,000 fines issued were past the deadline for payment and could be considered for prosecution.
In other developments:
the government's chief scientific adviser says he was rebuked by other senior officials for arguing strongly in favour of a lockdown before it was imposed in March
Downing Street said that about 99% of schools expected to reopen had done so, with only a "very small number" asking some pupils to stay at home due to outbreaks
a new antibody treatment is to be trialled on Covid-19 patients in UK hospitals
a ban on household visits affecting 1.75m people in Glasgow and the west of Scotland is to be extended for another week
a British Medical Association survey of 8,000 doctors and medical students suggested a second peak of Covid-19 was their number one concern
pub chain JD Wetherspoon insisted its venues were safe after it confirmed 66 of its workers had tested positive for coronavirus
THE RULE OF SIX: What's in the small print?
UNWIND WITH THE MINDFUL MIX: Switch off and escape
How will the new rules affect you? Do you have a question about them? If you have had a coronavirus test what was the process like? Tell us by emailing haveyoursay@bbc.co.uk.
Please include a contact number if you are willing to speak to a BBC journalist. You can also get in touch in the following ways:
WhatsApp: +44 7756 165803
Tweet: @BBC_HaveYourSay
Or fill out the form below
Please read our terms & conditions and privacy policy