Coronavirus: Reaction to the latest NI Covid-19 restrictions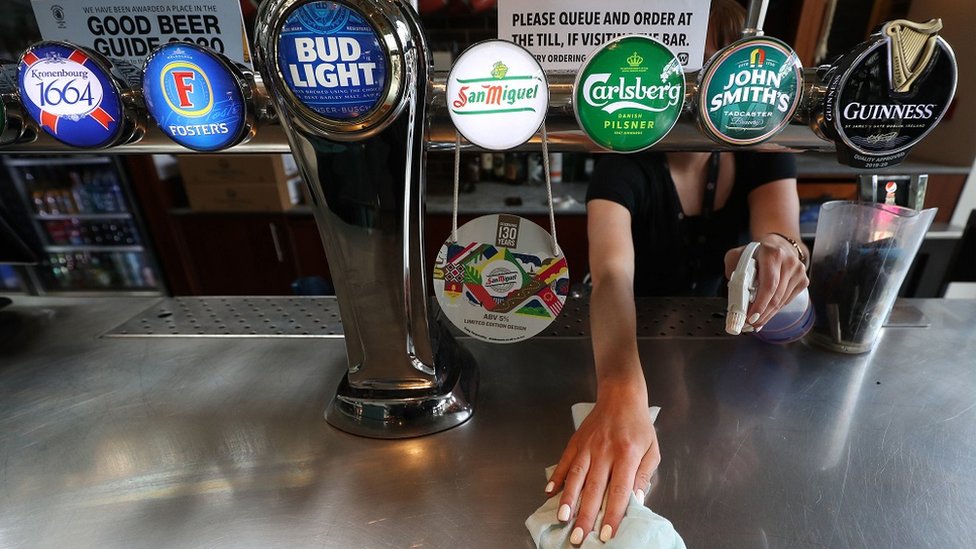 Schools are to close for two weeks and restaurants will be limited to takeaway-only as part of measures to be announced by the Northern Ireland Executive on Wednesday.
Ministers met late on Tuesday to discuss plans to tackle Covid-19.
It comes amid warnings that a sharp rise in cases could place hospitals under extreme pressure.
Schools to close and tight new hospitality rules
But there are concerns about the impact of tighter restrictions on education, the economy and other health services.
First Minister Arlene Foster
Arlene Foster said the executive would provide financial support to those affected by the latest measures "as best we can".
In a social media post on Tuesday evening during an adjournment of the executive, she said it was "critical" that schools did not face a "long-term" closure.
Mrs Foster said this would affect young people's life chances.
Deputy First Minister Michelle O'Neill
Michelle O'Neill said the executive will "do everything we possibly can to make sure there are protections in place".
She said this would be for "businesses, workers and families".
Ms O'Neill added that ministers had given the new restrictions "painstaking consideration".
Colin Neill, chief executive of Hospitality Ulster
"This is now endgame for many in the hospitality industry," Colin Neill from Hospitality Ulster told BBC News NI.
"We understand that obviously health comes first, but I think it's fair to say the hospitality industry has done more than any other industry to step up with measures.
"We have a health crisis, we accept that, but we also now have a hospitality crisis," he continued.
"What happens in four weeks if the rate [of infection] hasn't come down?"
Michael Allen, principal of Lisneal College
Londonderry school principal Michael Allen said he was "deflated" by the news that schools would have to close for two weeks.
He told BBC Radio Foyle schools had worked hard to ensure safety measures were in place for pupils and staff.
"One thing we can do when they are in schools is guarantee that young people are social distancing, hand sanitising and wearing face coverings.
"One of my main worries is that when pupils go out the door for those two weeks that same level of guarantee that all protocols will be adhered to is no longer there."
Gerard Keenan, owner of Dan's Bar in west Belfast
"To be honest I think we're done," Dan's Bar owner Gerard Keenan told BBC News NI.
"In a couple of weeks or so if it hasn't changed I think we've no choice, we'll have to sell our bar, I don't really want to do this anymore."
Mr Keenan said his business had been praised by Belfast City Council and police who had inspected safety measures introduced since pubs were allowed to reopen.
"I thought we were doing an excellent job in our pub," he said, adding that the latest measures have "cut the feet from beneath us".