Coronavirus: Poole Hospital staff applaud 'remarkable survivor'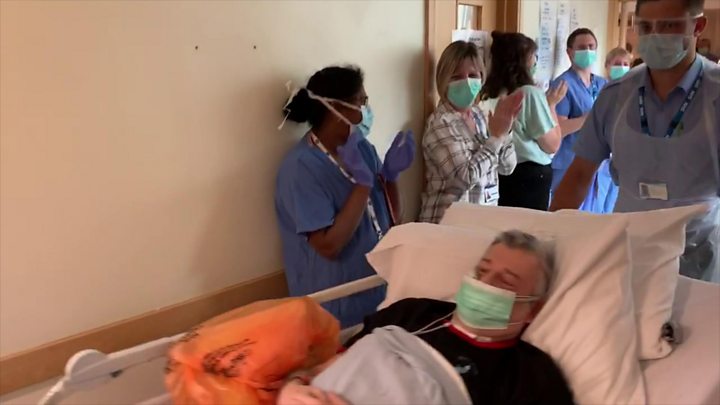 A man who "died three times" during five weeks in a coma with Covid-19 has been cheered as he left intensive care.
Steve Parker, 62, remains at Poole Hospital in Dorset but has been moved out of the critical care section.
More than 40 doctors and nurses lined the corridors to clap and cheer him as he was discharged to another ward.
Mr Parker, described by his doctors as a "remarkable survivor" of coronavirus, said he could not thank the hospital's "truly amazing" staff enough.
'Cup of tea'
Eoin Scott, head of nursing, said the critical care team had been "delighted" to be able to discharge him.
"Stephen has had a really tough battle against Covid-19 in intensive [care] for the last five weeks and has made a remarkable recovery, given how critically ill he has been," said Mr Scott.
"He is an amazing gentleman – and a remarkable survivor. One of his first questions when he began to get better was to ask for a cup of tea."
He added Mr Parker had "given all of us real hope and inspiration during what is an incredibly challenging time".
'Died three times'
Security manager Mr Parker, a former member of the Parachute Regiment, said: "I can't thank all the staff in critical care enough for everything they have done for me. They are truly amazing.
"I am one of the lucky ones. Apparently I died three times [while on the unit] but I don't care – I'm alive.
"The first I remember of being in this hospital was waking up [last] Friday morning, after five weeks.
"The last thing I remember [before that] was feeling a bit rough on a Friday morning and being taken to A&E,. That's all I can remember of anything – I was straight into a coma."
Mr Parker added: "I feel I'm progressing every day."