Coronavirus: NI records more than 1,000 new Covid-19 cases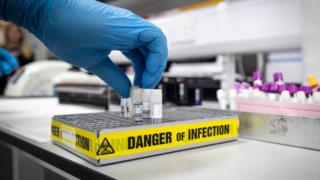 NI has recorded the highest daily total for the number of positive Covid-19 tests since the Department of Health rolled out its current testing model.
There were 1,080 positive cases of Covid-19 in Northern Ireland recorded in the last 24 hours.
As of Friday, 132 Covid patients were being treated in hospital, with 16 in intensive care and 10 on ventilators.
NI's health minister says the pandemic is the biggest single challenge the executive has faced in the modern era.
There were no further Covid-related deaths recorded in the past 24 hours.
There have been 5,272 new cases of the virus reported in the last seven days, bringing the overall total number of cases confirmed in Northern Ireland to 18,190.
In the Republic of Ireland, another five Covid-19 related deaths have been reported, brining the death toll to 1,821.
A further 617 new cases of Covid-19 were also recorded in the country, bringing the total number to 40,703.
'Double bind'
In a written statement to the assembly, the health minister said the current estimate of R, or rate of infection in Northern Ireland, is between 1.3 and 1.8.
R is the number of people that one infected person will pass on a virus to, on average.
Mr Swann said over the last week, there has been a 100% increase in cases reported with only a 15% increase in testing.
"There has been a progressive rise in Covid hospital patients, which are now around 33% of peak levels during wave one," he said.
"Cases are currently doubling every seven days and hospital admissions every nine days, both reduced from last week; if current trends remain unabated hospital inpatients will exceed those of wave one in only two to three weeks.
"The situation is grave and getting more so, on a daily if not hourly basis."
He said the executive was in a "double bind" – wanting to protect people and the health service, while seeking to prevent lasting and widespread economic damage.
Nisra figures
Meanwhile, two registered deaths linked to Covid-19 were recorded in Northern Ireland from 26 September to 2 October, according to the Northern Ireland Statistics and Research Agency (Nisra).
Nisra counts the instances where coronavirus has been mentioned on a death certificate.
Department of Health figures take account of the number of people who die within 28 days of a positive test for the virus.
Seven days after the Department of Health charted a significant rise in cases – 934 new daily cases – breaching the 1,000 figure is another grim first.
Northern Ireland's record daily increase is also higher than the Republic of Ireland's highest daily total of 1068, on 15 April.
A big difference between now and then is that we are not in lockdown.
As the numbers rise so does the risk of even more people being infected, admitted to hospital, into intensive care units and, ultimately, dying.
Additional demands are being made on hospital staff. Front-line staffing figures are being depleted as health workers test positive, or have to self-isolate.
If the trajectory continues the numbers being treated in hospital will exceed those in the pandemic's first wave by the end of this month.
Earlier this week, Northern Ireland's Health Minister Robin Swann said he was concerned that appeals to abide by coronavirus regulations were "falling on too many deaf ears".
People in Northern Ireland caught breaching coronavirus regulations will now face a minimum fine of £200 under plans agreed by the executive on Thursday.
The use of mandatory face coverings in Northern Ireland is also to be extended.
Despite speculation, the executive has agreed not to impose new local restrictions in the Newry, Mourne and Down or Belfast council areas, where cases have been rising sharply in recent days.
Stormont ministers have not ruled out bringing in a circuit breaker over the half-term holidays, if localised restrictions do not help to halt the rise in infections.
A circuit breaker is a lockdown for a short period of time, possibly two weeks, to slow the spread of the virus.
It would likely see all pubs and restaurants in Northern Ireland forced to close for the two weeks.
But Economy Minister Diane Dodds said it would only be viable with additional financial support from Westminster.
On Friday, UK Chancellor Rishi Sunak announced employees who work for firms forced to shut by law because of coronavirus restrictions will get two-thirds of their wages paid for by the government.
In other coronavirus-related developments in Northern Ireland:
Three police officers at Strand Road PSNI station in Londonderry have tested positive for Covid-19 and 13 other officers, identified as their close contacts, are now self-isolating
Queen's University, Belfast, is to offer students a 'rent holiday' of up to three months if they want to leave their university accommodation after a number of positive cases in halls of residence
Belfast City Council's chief executive says there could be further job losses if 120 of its staff who are still on furlough are not able to avail of the Job Support Scheme which will replace furlough
Justice Minister Naomi Long has said her doctors now believe she contracted Covid-19 in March when she missed her party conference after suffering a partially-collapsed lung
The minimum fine for breaching coronavirus regulations is rising from £60 to £200 after ministers met on Thursday and agreed to introduce harsher penalties
The rules on mandatory face coverings are being extended to taxis; private buses; banks; building societies; credit unions; post offices and other settings.