Coronavirus: Man 'licked fingers and rubbed them on Lidl goods'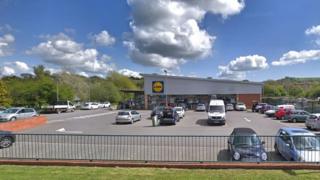 A man accused of licking his fingers and rubbing them on a product at a supermarket has been charged with contaminating goods.
On Friday, a man entered Lidl on St Andrews Road, Bridport, Dorset, wearing a face mask and gloves.
He lowered the mask, licked his fingers and rubbed them "purposefully" on to a product, police said.
A man was charged with contaminating or interfering with goods. Police said he was not a confirmed Covid-19 case.
Benjamin Best, 20, from Bridport, is due to appear at Weymouth Magistrates' Court on 6 May.
Amazon Devices and Accessories,
Amazon Devices. Find some of the best Amazon Devices and Accessories, electrical devices and gadget available on Amazon. Great products, great prices, delivered to your door.
Amazon Auto Links: No products found.