Coronavirus: Leo Varadkar 'now is the time for further action'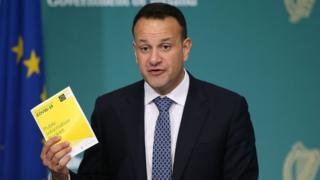 Further restrictions have been announced to public life in the Republic of Ireland.
Taoiseach (Irish Prime Minister) Leo Varadkar said "now is the time for further action".
He said from midnight on Friday, for a two week period until Easter Sunday, everyone must stay at home unless their work was essential or they were buying food.
Twenty two people with coronavirus have died in the country.
There are currently 2,121 cases of Covid-19 in the Republic of Ireland.
The move mirrors restrictions brought into the United Kingdom on Tuesday.
People have been told they should only travel further that two kilometres from their home when it is absolutely necessary.
Mr Varadkar said the number of intensive care unit admissions due to coronavirus had doubled since Monday and that transmission in the community now accounted for more than half of all cases.
"From midnight tonight, everyone must stay at home other than to travel to and from work only when work is an essential service, to shop for food or collect a meal, to collect health or medical products, to take brief exercise as long as you adhere to physical distancing," he said.
"All public gatherings are prohibited, sadly this includes social family visits,
"We're not prisoners of fate – we can influence what's going to happen to us next. There is no fate but what we make for ourselves."
Ireland's chief medical officer, Dr Tony Holohan, said measures implemented so far had been working, but more was needed.
He said the daily increase in cases has slowed down, "relative to what we might have expected a number of weeks ago".
"But this does not tell us that the worse is over – it tells us that we are having some early impact," he said.
Dr Holohan said they wanted to "turn the infection from a community-based one, to a household-based one, and thus slow down its spread and save lives."