Coronavirus: All non-essential shops to close immediately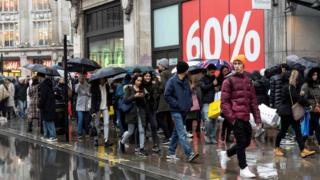 All shops selling non-essential goods will be closed immediately as the government imposes tougher controls to try and fight the coronavirus.
The shutdown will include clothing and electronic shops and other premises such as chocolate and book chains.
However, shops which sell essential items, such as supermarkets and pharmacies, will remain open.
Prime Minister Boris Johnson said the measures would cause disruption but save lives.
A host of High Street retailers and food chains have already shut, leaving tens of thousands of people temporarily without work.
Mr Johnson said: "I know the damage that this disruption is doing and will do to people's lives, to their businesses and to their jobs.
"And that's why we have produced a huge and unprecedented programme of support both for workers and for business."
Essential services
The UK government said this week it will pay the wages of employees unable to work due to the coronavirus pandemic, in a move aimed at protecting people's jobs.
It will pay 80% of salary for staff who are kept on by their employer, covering wages of up to £2,500 a month.
Many retail and hospitality firms have warned the pandemic could see them collapse, wiping out thousands of jobs, as life in the UK is put on hold.
Helen Dickinson, chief executive of retail lobby group – the British Retail Consortium, said, many shops had already closed temporarily.
"Others have continued to provide essential products and services to their customers, both from physical stores and online.
"Any retailers that remain open will be following the very latest government public health guidance to ensure they do everything they can to ensure the safety of customers and staff."