Coronafeirws: Pecyn newydd o gymorth ariannol i fusnesau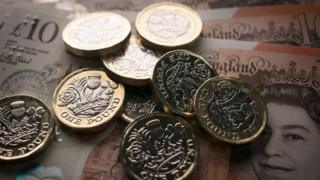 Mae disgwyl cyhoeddiad gan Lywodraeth Cymru am becyn newydd o gymorth ariannol i fusnesau yn ystod argyfwng coronafeirws.
Fe fydd y manylion yn cael eu cyhoeddi gan y Prif Weinidog Mark Drakeford ddydd Llun.
Bydd cynlluniau eraill yn cael eu cyhoeddi yn ystod yr wythnos, fydd yn rhan o'r £1.1bn o gefnogaeth i'r economi a gwasanaethau cyhoeddus yng Nghymru.
Daw'r arian o gyllidebau presennol Llywodraeth Cymru a pheth arian ychwanegol o Drysorlys Llywodraeth y DU.
Blaenoriaethu cyllidebau
Fe wnaeth cabinet Llywodraeth Cymru gyfarfod yr wythnos ddiwethaf i drafod sut i flaenoriaethu eu cyllidebau.
Mae gweinidogion Cymru eisoes wedi cyhoeddi buddsoddiad o £1.4bn i helpu busnesau yng Nghymru trwy grantiau a saib ar daliadau trethi.
Dywedodd y Gweinidog Economi, Ken Skates y byddai'r llywodraeth ym Mae Caerdydd yn cyflwyno cynlluniau cyfatebol i'r hyn a gafodd eu cyhoeddi gan y Canghellor Rishi Sunak i helpu busnesau yn Lloegr.
Roedd hyn yn cynnwys saib ar daliadau trethi busnesau yn y sectorau manwerthu, hamdden a lletygarwch am 12 mis, a grantiau cyllido rhwng £10,000 a £25,000 ar gyfer busnesau bach.
Ers hynny mae Llywodraeth Cymru wedi penderfynu na fydd y "llai na 200 eiddo ar draws Cymru" sydd gyda gwerth trethiannol o £500,000 neu fwy yn gymwys yn eu cynlluniau nhw.
Bydd yr arian yn cael ei ddefnyddio i greu cronfa gwerth £100m i gefnogi busnesau eraill, mentrau cymdeithasol ac elusennau yn ystod argyfwng coronafeirws.
Mewn datganiad dywedodd y Gweinidog Cyllid, Rebecca Evans a Mr Skates y byddai'r busnesau sy'n cael eu heffeithio gan y penderfyniad yn gallu gwneud cais am gymorth pellach.
Mae disgwyl i fusnesau ddechrau derbyn arian o'r gronfa argyfwng erbyn canol yr wythnos hon.
Yr wythnos ddiwethaf cyhoeddodd Llywodraeth y DU gynllun i dalu 80% o gyflogau pobl oedd methu gweithio yn ystod yr argyfwng a phecyn arall fyddai'n galluogi i weithwyr hunangyflogedig geisio am grant o hyd at 80% o'u helw misol ar gyfartaledd.
Amazon Devices and Accessories,
Amazon Devices. Find some of the best Amazon Devices and Accessories, electrical devices and gadget available on Amazon. Great products, great prices, delivered to your door.