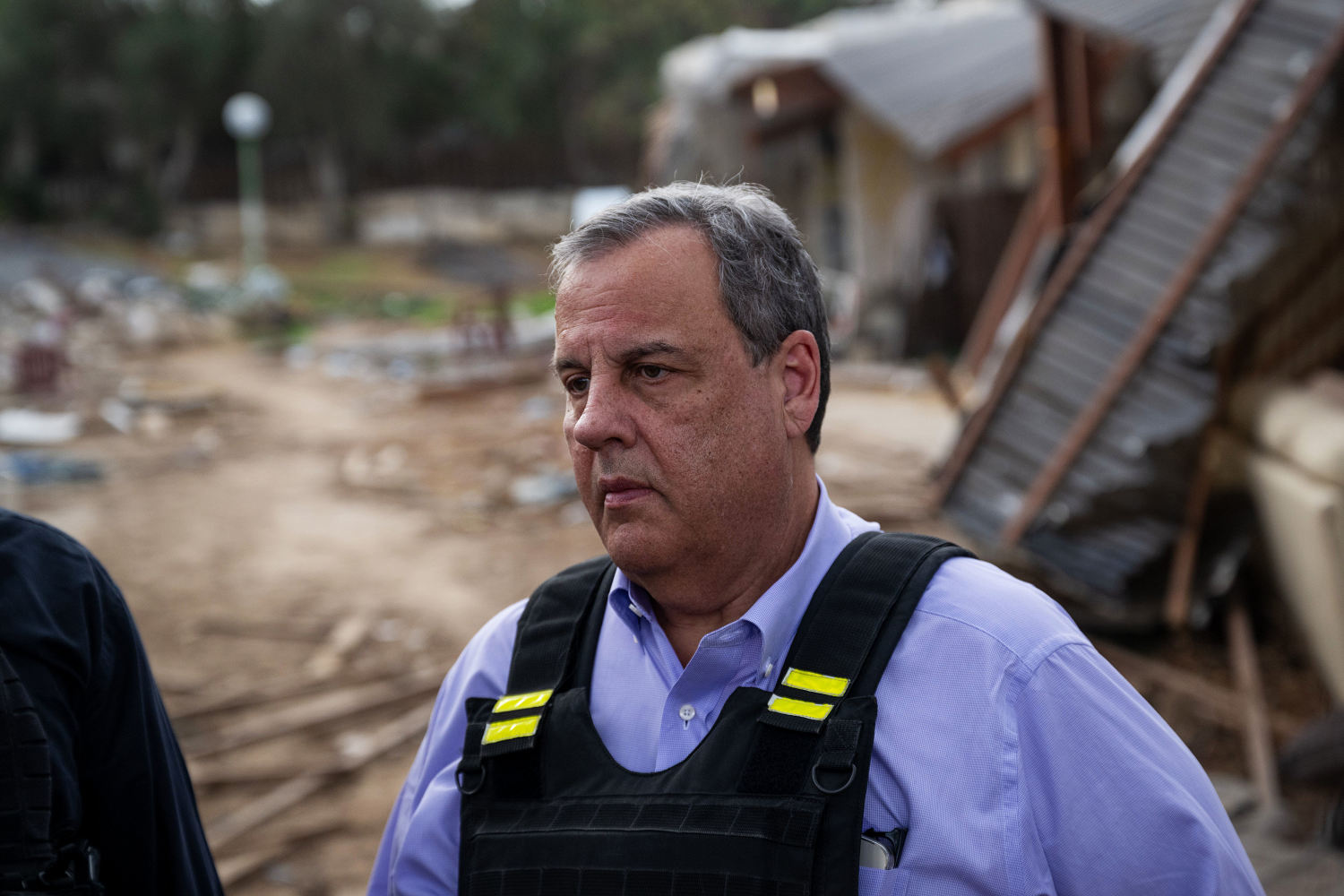 Former New Jersey Gov. Chris Christie over the weekend became the first Republican presidential candidate to go to Israel since the start of the Israel-Hamas war, visiting a hospital in Tel Aviv, meeting with victims who were wounded in Hamas' Oct. 7 attack and speaking to relatives of people it took hostage.
Christie started the day touring Kfar Aza kibbutz, less than 2 miles from the Gaza border, which Hamas attacked on Oct. 7. He walked through debris in the community, wearing a bulletproof vest and looking at houses Hamas destroyed and hearing stories about the atrocities that took place. 
Christie told NBC News before he left for Israel that his goal was to ask a lot of questions and then listen. And in Israel, he said he planned to regularly relay what he heard back in the U.S. so "American people who were being asked to sacrifice and to help Israel financially and militarily will know that what they're doing is not only a noble effort on their part, but also what friends do for friends. And America has no greater friend in the world than Israel."
Christie also said he hopes his visit inspires other U.S. leaders to go, adding, "If you don't understand the stakes after seeing this, then you lost."
And when he was asked how he thought President Joe Biden has responded to the war, Christie said he thinks Biden's performance since Oct. 7 "has been quite good." 
"I think that he has done the things that needed to be done to be able to show Israel our friendship and our support and also send signals to others in this area that the United States is not going to permit these kinds of things to go on," Christie said. 
Among the people Christie spoke to at the Tel Aviv hospital was Sheerel Gabay, who was shot in the knee in a bomb shelter at a music festival on Oct. 7 and hid under dead bodies for seven hours before she was rescued. A soldier named Yadin, a reserve first responder who did not provide his last name, was wounded fighting Hamas on Oct. 7.
"As American citizens, we have a lot of friends abroad that live in America, Europe or Canada, and we hear a lot of voices that are so against us," Yadin told Christie. "When you hear a story like Sheerel's and you hear that people just came into a bomb shelter and shot innocent people … you ask yourself questions of moral humanity, and I feel like the world has lost that."
At the kibbutz, Maj. Liad Diamond, a member of the Israel Defense Forces' Public Diplomacy Department, told Christie that a five-person American family who used to live there would fly kites every Friday night so people in Gaza could see them, seemingly as a sign of peace. The family members were killed in their safe room.
Amir Ohana, the speaker of Israel's Knesset, told Christie after they toured the kibbutz, "Terror organizations throughout the world are watching, what will Israel and what will the world respond to what happened on Oct. 7."
After his stop at the kibbutz, Christie toured an Israeli military encampment in Tzifrim, where he watched more than 40 minutes of video highlighting what happened on Oct. 7 and was shown weapons Hamas used in the attack. Video of the attacks previously screened by the IDF has included clips from social media and from both Israeli rescuers and Hamas attackers, among other sources.
"I saw some of the weapons that were used from Hamas, and they had Russian weapons, they had Iranian weapons, they had North Korean weapons, they are all working together," Christie later told victims at the hospital. "They are all evil, and they want to go after Israel not only because they hate Jews, but also because they hate us."
Christie also met with Israeli President Isaac Herzog, but he did not meet with any Palestinian leaders. Asked whether there should be a cease-fire, he said, "No." 
His message to people calling for a cease-fire is "come to Israel and see it for yourself."
NBC News asked Christie how seeing images of children and other civilians in Gaza made him feel.
"It's awful," he said. "It's a horrible consequence of the war that Hamas started. Let's remember on Oct. 6, there was a cease-fire. And Oct. 7, Hamas violated it and violated it by killing hundreds and hundreds and hundreds of innocent civilians."