Charlie Patino: Arsenal's teenage wonderkid scores on debut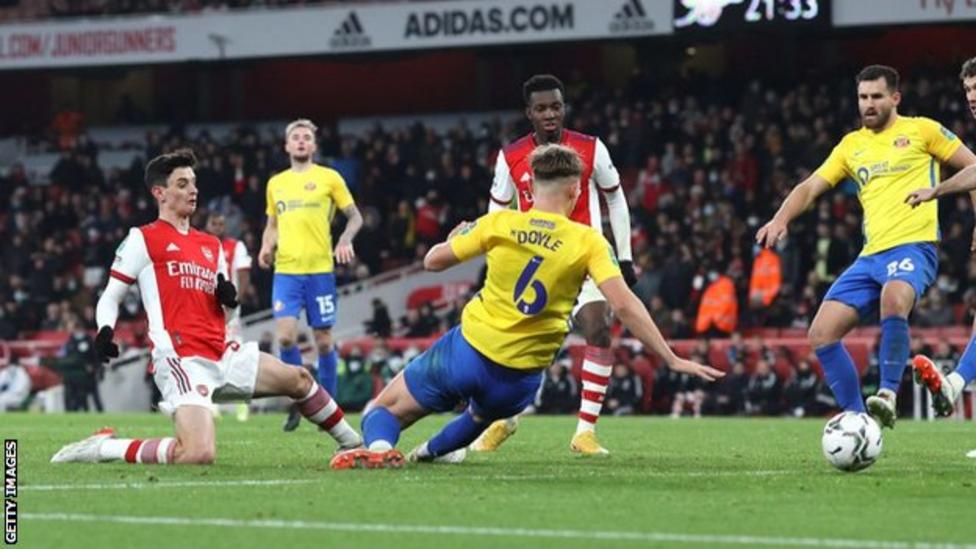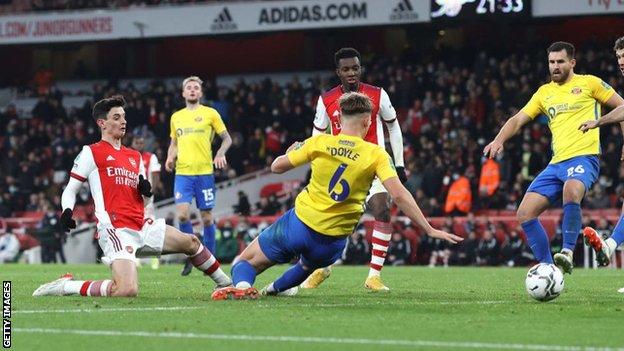 Eddie Nketiah may have scored a hat-trick as Arsenal reached the Carabao Cup semi-finals but it was another Gunners prospect getting the home crowd purring.
Fans inside the Emirates were chanting Charlie Patino's name when he was brought on as a substitute for his first-team debut – and they were even louder after he netted in added time in the 5-1 victory over Sunderland.
The 18-year-old, who was born two months into Arsenal's famous Invincibles season of 2003-04, only entered the field in the 80th minute, before turning Nicolas Pepe's cross into the corner to cap a good night for Mikel Arteta.
"He didn't disappoint, he is a player who has a lot of personality," the Arsenal boss told Sky Sports.
"I'm delighted for him. He is a kid we like so much. To have his debut like that and score a goal, it's something special."
Such was Patino's potential from a young age that Arsenal paid Luton Town £10,000 to sign him when he was just 11 years old in 2015.
He has regularly played above his age group and earlier this season scored a superb solo goal for the Gunners' Under-23 side against Manchester United, weaving through the defence before beating goalkeeper Dean Henderson.
The talented England Under-19 midfielder's first senior goal came with his first shot in professional football.
"Amazing for him. He's got a great future ahead of him," added team-mate Nketiah on Sky Sports.
Karen Carney added on BBC Radio 5 Live. "For Charlie Patino to score on his first-team debut, he will never forget it.
"How he ran off and slid on his knees towards the fans. It's so special and he will never forget that."
Can Arteta convince Nketiah to stay?
Now 22, Nketiah is looking to move his career on from being a prospect to regular starter, but has been limited to three Premier League substitute appearances this season, despite netting five times in the club's Carabao Cup run.
The forward's contract runs out at the end of the season and he has reportedly rejected a new deal.
"I'm just eager to play football," said Nketiah. "That's my main ambition. As long as I play for Arsenal I'll give my all."
Arteta says he want Nketiah to stay at the club.
"I have been very consistent with what I think of Eddie, how much we like him and his contribution to the team every time he plays has been top," he added.
"The only thing is he wants more minutes. That's his desire. I really want him to stay here and that is what we are trying to do.
"Eddie is a really important part of the squad."