Belarus: Lukashenko inaugurated in unannounced ceremony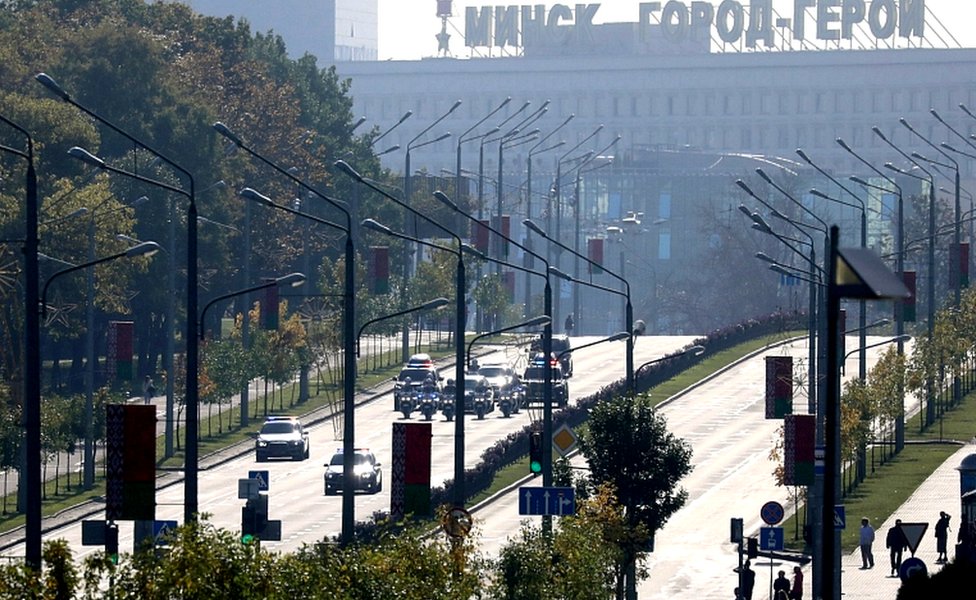 Belarus President Alexander Lukashenko, whose re-election in a disputed poll last month led to weeks of mass protests, has been inaugurated for a sixth term in an unannounced ceremony.
State media said several hundred people attended the ceremony at the Palace of Independence in central Minsk.
Streets were sealed off as Mr Lukashenko's motorcade raced through the city, witnesses said.
One opposition politician likened the event to a secret "thieves' meeting".
Presidential inaugurations are normally publicised well in advance as major state occasions.
Instead, state news agency Belta reported on Wednesday: "Alexander Lukashenko has taken office as President of Belarus. The inauguration ceremony is taking place in these minutes in the Palace of Independence."
Mr Lukashenko, 66, claimed a sixth term as president in the widely disputed election of 9 August. He insisted that he had won fairly with 80% of the vote and depicted the protests against him as Western-backed. Earlier this month, he secured
a $1.5bn (£1.2bn) loan from Russia
.
His main political rival, Svetlana Tikhanovskaya, claims to have won 60-70% in places where votes were properly counted.
Opposition figures, including Ms Tikhanovskaya, are now in exile in neighbouring countries amid a wave of arrests.
Despite the crackdown, anti-government protests show no signs of diminishing. On Sunday, a crowd of about 100,000 people staged another rally in the capital, demanding that Mr Lukashenko step down.
Opposition politician Pavel Latushko posted on social media after news of the inauguration ceremony emerged: "Where are the jubilant citizens? Where is the diplomatic corps?"
"It is obvious that Alexander Lukashenko is exclusively the president of the Omon (riot police) and a handful of lying officials."