BBC: Gwario mwy nag erioed ar gynyrchiadau o Gymru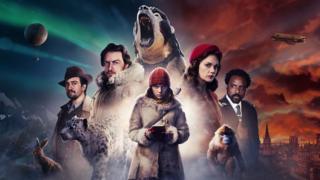 Cyfrannodd dramâu fel His Dark Materials ac Un Bore Mercher at y gwariant uchaf erioed ar gynyrchiadau rhwydwaith gan y BBC yng Nghymru y llynedd.
Cafodd £75m ei fuddsoddi mewn cynyrchiadau yma yn 2019/20, yn ôl adroddiad blynyddol a chyfrifon y gorfforaeth.
Roedd hyn yn cyfrif am 8.2% o wariant y rhwydwaith – i fyny o 6.3% o'r flwyddyn flaenorol.
Yn ogystal â'r £75m ar gynyrchiadau rhwydwaith, gwariodd y BBC gyfanswm o £207m ar wasanaethau yng Nghymru gan gynnwys ei llwyfannau teledu, radio ac ar-lein.
Mae'r adroddiad blynyddol yn amcangyfrif y bydd incwm y BBC o'r ffi drwydded o Gymru yn gostwng i £175m yn 2020, o'i gymharu â £184m yn 2019.
Mae His Dark Materials yn addasiad o gyfres lyfrau Philip Pullman ac mae adroddiadau mai dyma'r ddrama BBC gyda'r gyllideb fesul pennod fwyaf erioed.
Cafodd ei chynhyrchu gan gwmni Bad Wolf yn eu stiwdios yng Nghaerdydd, ac mae disgwyl i ail gyfres gael ei darlledu ym mis Tachwedd.
Ymhlith y cynyrchiadau rhwydwaith eraill a wnaed yng Nghymru roedd y ddrama The Left Behind – a enillodd BAFTA – a'r ddrama drosedd Craith/Hidden.
Mae cyfres drosedd newydd, The Pact, yn dechrau cynhyrchu'r wythnos hon.
Pwy yw'r Cymry ar y cyflog mwyaf?
Mae'r cyfrifon hefyd yn datgelu bod dau gyflwynydd o Gymru ymhlith y bobl sy'n ennill y cyflogau uchaf yn y BBC.
Mae Huw Edwards yn derbyn cyflog blynyddol rhwng £465,000 a £469,999 am oddeutu 180 diwrnod o gyflwyno newyddion teledu a rhaglenni etholiadol ar gyfer y BBC.
Mae Jason Mohammad yn cael ei dalu rhwng £285,000 a £289,999 y flwyddyn am gyflwyno sioe ar BBC Radio Wales yn ogystal ag ymrwymiadau teledu eraill BBC Cymru, ochr yn ochr â rhaglenni chwaraeon ledled y DU a Good Morning Sunday ar Radio 2.
Mae'r ddau wedi ymddangos ar restrau blaenorol o sêr y BBC ar y cyflog uchaf. Nid yw taliadau o gangen fasnachol y BBC, BBC Studios, yn cael eu cynnwys ar y rhestr.
Yn y cyfamser mae'r adroddiad blynyddol yn nodi bod gan gyfarwyddwr BBC Cymru Wales, Rhodri Talfan Davies, gyflog blynyddol rhwng £190,000 a £194,999.
Mewn ymateb i'r adroddiad blynyddol, dywedodd Mr Talfan Davies: "Llynedd, gwelwyd Cymru ar deledu rhwydwaith yn fwy nag erioed.
"Mae'r sylfaen o dalent greadigol sydd yma wedi creu rhai cynyrchiadau anhygoel sydd wedi rhoi pleser i gynulleidfaoedd yma yng Nghymru ac ar draws y byd.
"Ry'n ni'n adeiladu ar hynny, ac rwy'n falch dros ben bod gennym ddrama newydd wrthi'n cael ei chynhyrchu a fydd yn denu ein cynulleidfaoedd unwaith eto."