Bath boats left underwater after sluice gate fault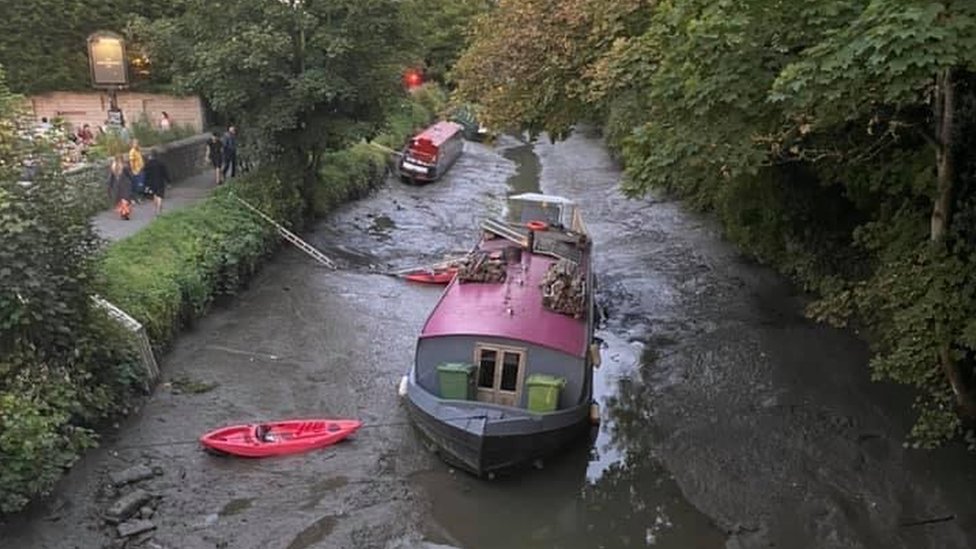 Boat owners in Bath have described their "panic" when a sudden drop in water levels left their properties submerged and stranded.
Several of those affected live on the boats and rushed back to the waterside on Tuesday night to see their homes in danger because of a sluice gate fault.
Engineers have now closed the gate and water levels are to be restored slowly.
"The worry now is the boat doesn't rise with the water," said owner Cordelia Britton.
"I met another boater who was in quite a state as he was on a very small boat and the current was so fast.
"I'll be keeping a very close eye on the boat all day. This has never happened to me in three years of living on-board. I hope she'll come back up again."
Water levels dropped by about 1.8m (5.9ft) after the fault at Twerton sluice gate and the Canal and River Trust alerted boaters with a post on its website at about 19:00 BST on Tuesday.
Avril McGovern, from Bath, lives on a boat in the area and was out for dinner with friends when she received messages about the river levels changing.
"I thought I'm quite safe because I'm behind the lock but then there were more posts on the Facebook group that I'm in saying that it was draining, so I raced back to see my boat resting on the bottom.
"Some other boats had sunk and a couple of friends had to find alternative accommodation, so obviously that is going to have quite a devastating impact on them," said Ms McGovern.
Another boater called Eric said he came back from an evening out to find his boat on the canal bed.
"It's never happened to us before. Our neighbour was saying it happened last year but it is quite a rare event.
"We went through the whole rollercoaster of emotions last night of instant panic, worry, stress and couldn't sleep for very long," he said.
Ben Pearce said the rear of his boat had been stuck on a hidden sandbank as the levels dropped, tipping the front end into the water.
"The gates got stuck open so the river dropped by about two metres within half-an-hour.
"There'll be some things that might not be damaged. I try to keep my possessions to a minimum as I live in a small space.
"I think it will refloat but there's a hatch and far side door underwater so I think it needs a flotation device," he said.
Emergency services were called but the Environment Agency (EA) said no water rescues were necessary, although some people had to be moved to "safe accommodation".
EA spokesman Ian Withers apologised for the "disruption and anxiety" caused and the cause of the failure was being investigated.
UK canals

Bath
Environment Agency