Abertawe'n arwyddo'r asgellwr Jamal Lowe o Wigan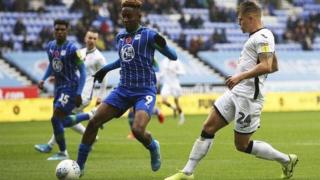 Mae Clwb Pêl-droed Abertawe wedi arwyddo asgellwr Wigan Athletic, Jamal Lowe.
Credir bod y ffi o gwmpas £800,000 i ddechrau, gyda thaliadau pellach i ddod.
Lowe yw'r pumed chwaraewr newydd i arwyddo i'r Elyrch yn ddiweddar, yn dilyn dyfodiad Korey Smith, Freddie Woodman, Morgan Gibbs-White a Marc Guehi i Stadiwm Liberty.
Cafodd cynnig agoriadol Abertawe o £500,000 ei wrthod gan Wigan.
Sgoriodd Lowe, sy'n 26 oed, chwe gwaith mewn 48 o gemau i Wigan y tymor diwethaf ar ôl arwyddo o Portsmouth yn 2019, lle sgoriodd 30 o goliau mewn 119 o ymddangosiadau.
Disgynodd Wigan o'r Bencampwriaeth y tymor diwethaf, ar ôl colli 12 pwynt fel cosb am fynd i ddwylo'r gweinyddwyr, ac mae nifer o'u chwaraewyr wedi symud ymlaen i glybiau eraill, yn cynnwys chwaraewr Cymru, Kieffer Moore, sydd wedi arwyddo i Gaerdydd.
Amazon Devices and Accessories,
Amazon Devices. Find some of the best Amazon Devices and Accessories, electrical devices and gadget available on Amazon. Great products, great prices, delivered to your door.
Amazon Auto Links: No products found.